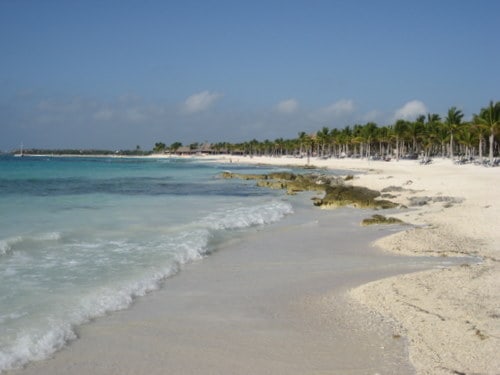 Photo by: Sharlene Earnshaw
Lately, many families have been afraid to travel to Mexico. With stories of drug wars and murders topping news headlines, it's no wonder that there is a feeling of hesitancy. But what if people stopped visiting Denver, CO because of rampant crime in St. Louis, MO? Most people would find the notion to be silly, considering the hundreds of miles that separate the two cities. This is what is happening to the country of Mexico. Families aren't visiting amazingly family-friendly destinations like the Riviera Maya, a region with a crime rate similar to the state of Montana, because of the violence that is mainly occurring in border towns and inner cities hundreds of miles away.
This week, I hope to change that. After my recent visit to the Riviera Maya, I became so passionate about getting more Trekaroo families to the region. I hope that after hearing about just how incredibly family friendly this part of Mexico is, all those fears will be replaced by excitement for your future trip to the Riviera Maya.
Barcelo Maya Palace Deluxe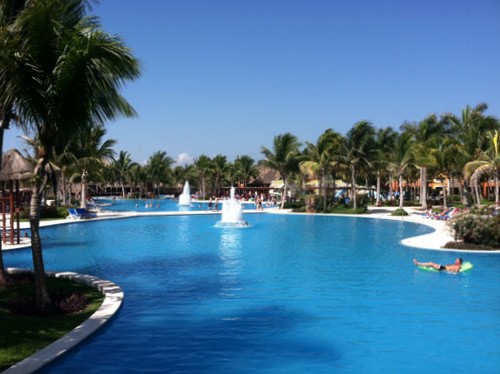 Photo by: Sharlene Earnshaw
No family trip to the Riviera Maya is complete without a stay at one of the fabulous all-inclusive resorts that sit on the Yucatan Caribbean. I had the pleasure of staying at the beachside Barcelo Maya Palace Deluxe, situated on its own strip powdery white sand near the beach town of Playa del Carmen. Palace Deluxe is the most luxurious of the five all-inclusive properties that sit in the massive Barcelo complex. It features spacious luxuriously appointed guestrooms (including some 1000 square foot family suites which sleep six), two all-you-can-eat buffets, five specialty restaurants, the Barcy kids club, a water play area specially designed for younger guests, and the biggest pool I have ever seen, complete with its own swim up bar and water lounge chairs. In short- its a big ole slice of family-friendly heaven.
The Ambiance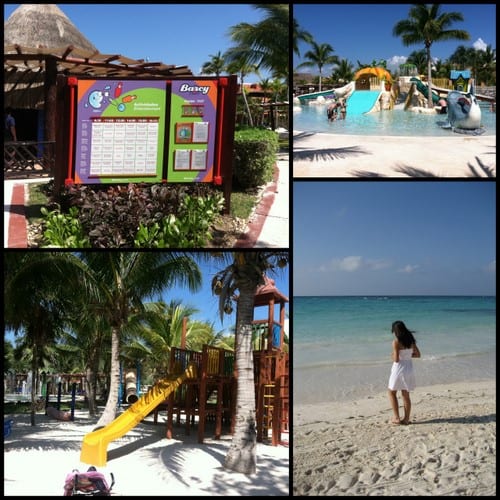 To give you an idea of what it is like to stay at this resort, here is an excerpt from the notes I took while staying at the property:
As I sit here on the balcony of my ocean front room, I can't help but occasionally pinch myself to make sure I am not dreaming about paradise. Many vacation destinations claim paradise but I think the Riviera Maya has a leg up on the majority of the competition. I peer out towards the ocean and watch a beautiful couple dressed in white, gazing at the sunset while a photographer captures their first moments together as husband and wife. 25 yards away, a mom watches her four year old daughter dance in and out of the small waves that rhythmically brush up against the powdery white sand. She wears a smile that only a mother experiencing pure joy with her child can wear. A husband and wife walk hand inland with their young children run ahead to chase a black bird. If this isn't paradise, I am not sure what is.
Lodging Options and Safety Measures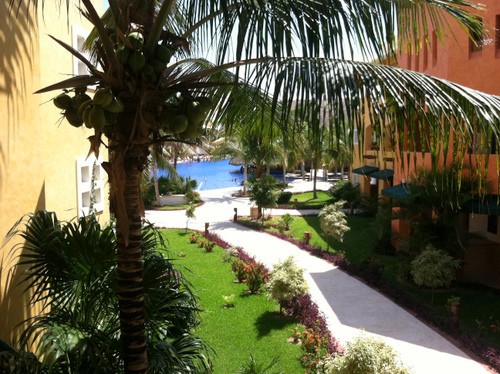 What I love about the Barcelo Resorts is that each property is designed to meet a different budget. Families looking for the most economical alternative can opt for a property with rooms that may have less opulent fixtures and restaurants with a more casual atmosphere, but still are able to enjoy the same warm Caribbean waters and boundless onsite activities. I had the opportunity to see the budget accommodations and while there wasn't granite on the counter tops and marble on the floors, the furnishings are still quite nice and the rooms are spotlessly clean. I would have no problem staying in one of those rooms with my family or recommending them to a friend.
And if security is still an issue nagging at you in the back of your mind, rest assured knowing that all guests wear brightly-colored wristbands at all times, making it easy for employees of the resort to recognize an outsider. There is also a manned security stand at the gate of the resort complex. When we took a cab back from dinner in nearby Playa Del Carmen, the guard asked for each occupant to show their wrist band and state their names to check the guest roster. Though the region itself is safe, I think the Mexican government, the tourism commission, and the resort itself know the damage crime has done to other regions of the country and they don't want the same to occur in the Riviera Maya.
If you have been debating a family trip to Mexico, I say give it a go in the Riviera Maya. All-inclusive resorts like Barcelo offer plenty of fun for visitors of all ages and as you will see throughout the next week, there are some really great activities and sites waiting for guests along the Mayan coast.
Disclosure: I visited the Riviera Maya this past spring as part of a press trip in order to write a story about the region. I fell in love with the region and felt it was incredibly family-friendly so my article has now turned into a series! All accommodations, meals, and activities were provided. The Riviera Maya did not request that I express any particular opinions and, as always, all opinions reflect my honest opinion.