One of the traditions many families have is to attend a performance of the Nutcracker every holiday season. But what goes into such a complex performance? Superoo Michelle Brennan gives us a glimpse….
Starting on what is usually a very hot September day, some 60 plus aspiring ballerinas and ballet danseurs (the boys), ages 3 though teen, begin the audition process for Ballet Theater Company's : The Nutcracker.  It is hard to imagine as we start this process that there may well be snow on the ground and Christmas lights on the trees when we finish.  This is the third year my family has been involved and the excitement for both myself and my daughters has not diminished.
In late September comes the mail with notification of your part and rehearsal schedule.  Come October, the rehearsals begin.  This year, my 9 year old daughter Natalie has 2 roles; one as a Baker in the Land of Sweets and the other as a Junior Party Girl in the opening scene where we are introduced to Clara and the Nutcracker.  My 6 year old daughter Lauren is cast as an Angel with 9 other  "angels".  There are roles for every gender and age, including parents who waltz during the party scene, boys that play soldiers and Fritz' friends, and the most coveted role of Clara.  The children work very hard every weekend to learn their choreography, and in the process, find out what it is like to be in a large professional stage production.  During the last few weekends leading up to the performance,  rehearsals are 4 or more hours long.   The children need stamina and interest but there is not one child there, even down to the smallest 3 or 4 year old. that does not make it work.
As the production dates draws near we have serious rehearsals in front of us.  On Monday we had a 4 hour technical rehearsal at the theater and Tuesday is our dress rehearsal.  I say "we" because parents play an important role in the production.  We are the back stage quick change artists, the makeup and hair stylists, chaperones, and overall green room organizers.  During the production, we keep the children busy until they are "on" and direct them when they are off.  The production begins on Wednesday the 15th with an outreach performance.  During this event many children from surrounding disadvantaged areas are invited to experience the magic of theater and the ballet during the season of giving.
This year's production is being directed by Roman Baca, an accomplished ballet dancer and director of the Exit 12 Dance Company based in New York City.  He founded the dance company with two other ballerinas following active duty service as an assault man/machine gunner Marine in Iraq.  His productions seem to always have a military spin and this year's Nutcracker is no different.  He and other professional dancers from his company play the starring roles in the production of the Nutcracker, as well as guest artists from other NYC troupes.  These dancers are amazing and are inspiring role models for the children who have roles in the Nutcracker .  In addition to Mr. Baca, a few of the dancers and their accomplishments include:
(*)Chatch Pregger: He has been a member of many ballet companies around the United States, including the Houston Ballet, Washington Ballet, Boston Ballet and Boston Ballet II.  He has also danced with the Arizona Ballet, Hartford Ballet, and Texas Ballet Theatre.
Marie-Lorène Fichaux: She graduated from the Paris Opera Ballet School in France before completing her studies at the Ballet School of Teatro alla Scala in Milan, Italy.  In 2000 she moved to England and joined The Royal Ballet of London.
Andrew Silks: He has trained on full scholarship at The Washington Ballet, Youth America Ballet, Boston Ballet, American Ballet Theatre and Ellison Ballet in New York City.
Mayo Kurokaw: She studied dance at Japan Jr. Ballet Company in Tokyo, Japan and Universal Ballet Academy.
Other amazing dancers include: Lisa Fitzgerald, Michael Wright, Jacquelyn Koehler, Kimberly Giannelli, Kendahl Ferguson, Crystal Danzer, Jessica Freitas, Paige Grimard. Hope Kroog and Maddie James- all equally credentialed.
The little ballet students watch the professionals in awe and some really get a chance to know them  while they are housed in parent's homes during performances and shuttled back and forth to the train station during the week by other parents. This gives the kids a chance to talk with the pros and find out more about the lifestyle of a ballerina.
As we draw near performance time, it is emotional to think of all the time and effort everyone has put into this show so that 60 children from around the greater Hartford area can dance in a full stage production with professionals in a grand setting.  The executive director of BTC, Ms. Tracy Dorman, has a wealth of ballet experience, knowledge and connections.  Without her, the production would not continue.  We are also grateful for her helper elves from the studio that also put in LONG hours of work with no pay to make sure this is a professional and delightful production.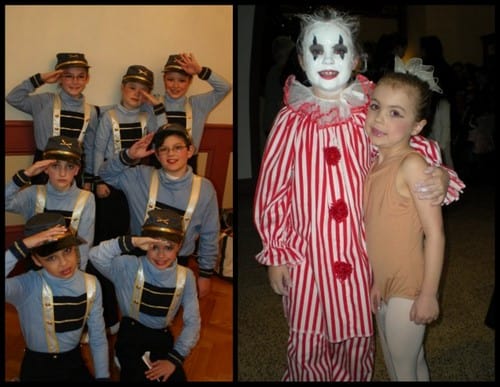 In addition to being in the production and loving every minute of the beautiful costumes, challenging choreography, and exposure to professional dancers, my girls have experienced and learned so much more.  They have been afforded the opportunity of seeing a commitment through even when it interfered with playing goalie for a soccer team.  They have made several good friends, some of which they met in years past and due to distance, only get to see through this activity.  They have been mentored by older child dancers with more experience through a mentor program designed by BTC.  They have seen the service parents have provided to stage a professional production.  Finally, they have learned to love the stage. They feel confident performing, getting up in front of a group, and sharing the stage with true professionals. This year, I am particularly proud of my youngest daughter Lauren.  Last year, she had just turned 5 during the rehearsal phase of the show.  She was fine on stage and led her group marvelously but backstage she was a complete mess.  She cried at every opportunity and was always looking for Mom.  Although she has been studying ballet for 3 years, she said she would never dance in the Nutcracker again.  This year when announcement of the audition date came, I had her brother ask her if she wanted to audition again… I did not want there to be undue pressure from me.  She responded with an adamant yes and has not looked back.  She goes to her rehearsals every week even when she is tired and takes it very seriously.  I was peeking during one rehearsal and found her quieting another student who might have been losing focus.  I can only hope that the tech/dress rehearsals and the performances go as well as the rest of the process has thus far gone.
And so another year of Nutcracker goes by.  I have to be very organized during this part of the year due to the holiday season and all of the planning and activities that go into Christmas.  Christmas cards have to be written early, shopping and wrapping completed before the start of the performances, baking in October and freezing all of my 'must-bake' cookies so as not to offend the non-Nutcracker personnel in our house ( Dad and 9 year old brother Mack who has not yet been convinced into the fun of participating) and planning my twins' family birthday party which doubles as a holiday party… so the tree and decorations all have to be complete before December 12.
It is a crazy time of year for us.  However, just one look at Natalie and Lauren's faces when they have on their costumes, when they see a professional ballerina in her toe shoes as they try to imitate her, and when I see them take the stage…makes it all worth it!!!!!
Ballet Theater Company's  The Nutcracker will be performing at the Carol Autorino Center for the Arts and Humanities at St. Joseph College West Hartford, Connecticut December 16th through 19th 2010
*Thanks to Mr. Roman Baca for providing the dancer biographies and other Exit 12 dance company information.
Comments
comments