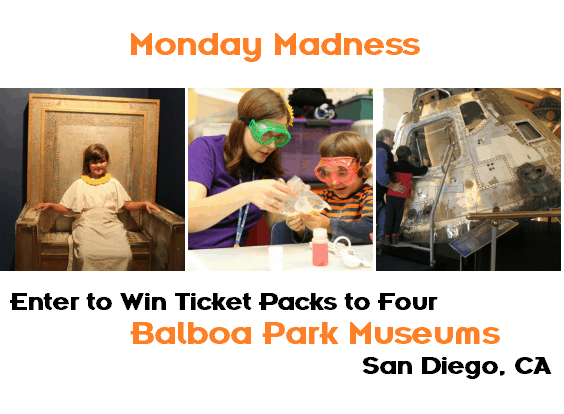 The nation's largest urban cultural park, Balboa Park, is one of San Diego's must-see attractions. Fifteen museums, seven performing arts venues, many gorgeous gardens, and even the San Diego Zoo call Balboa Park home. Located conveniently near downtown San Diego, both residents and visitors of all ages enjoy spending a full day touring museums, a brisk morning walk around the gorgeous grounds, and everything in between.
Channel Your Inner Einstein at the Reuben H. Fleet Science Center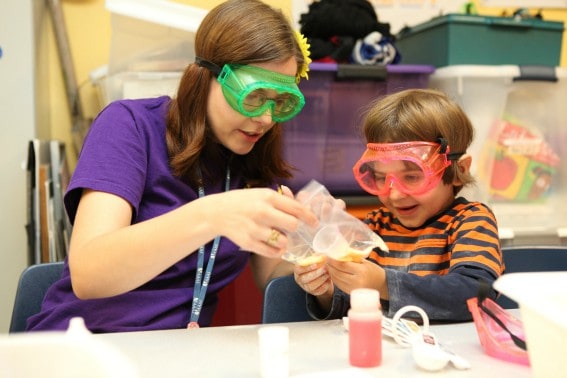 Photo courtesy of the San Diego Museum Council
The Reuben H. Fleet Science Center is filled with hand-on science exhibits designed to teach young (and old) minds about science through play.  Highlights include Kid City, a colorful play space designed for infants through age 5, where kids can put items on conveyor belts, pretend grocery shop, watch balls launch out of air chutes, and much more. Older kids spend time building free-form skyscrapers with Keva planks at Block Busters!, but remember that half the fun is knocking creations down afterward.
My daughter keeps asking to go back to Grossology: The (Impolite) Science of the Human Body, one of the Fleet's most popular temporary exhibits ever. Based on the best-selling book, Grossology, sophisticated animatronics and imaginative exhibits tell you about runny noses, body odor, vomit, and much more. It's cartooney, so don't worry about the visuals being too…visual. It's actually cute. When else are kids going to be able to climb up a wall of warts and acne?
Take Flight at the San Diego Air & Space Museum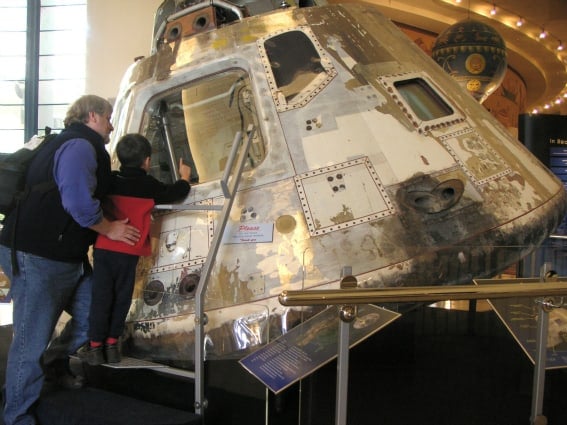 Photo courtesy of the San Diego Air & Space Museum
Trekaroo families love to travel, and there's no better place to teach your kids the history of flight than the San Diego Air & Space Museum.  Air travel first started with the Montgolfier brothers' hot air balloon in 1783, the first vehicle to defy gravity and lift humans above the earth. Kids will love comparing the replica balloon to modern aircraft or spacecraft. Speaking of space, your budding astronaut will no doubt marvel at the Modern Jet & Space Age Gallery including Wally Schirra's (the only man who flew in all three early space programs: Mercury, Gemini and Apollo) spacesuit and replicas of Apollo and Gemini. Both the World War I Gallery and the World War II Gallery contain rare, restored military planes or gear.
New at the San Diego Air & Space Museum is the Kid's Aviation Action Hangar, a special play area for kids with activities for all ages. Preschoolers can color and play with magnetic toys while grade-school kids can test a flight simulator and space suit.
San Diego History Center
Sometimes referred to as the Museum of San Diego History, the San Diego History Center is located in the heart of Balboa Park. San Diego History Center's research library is home to 45 million pieces of paper and 2.5 million images that document the people, places, and events of San Diego's history, dating back centuries. It's one of the smaller museums, but it has a nice mix of exhibits that both kids and adults will enjoy regardless of whether you are a San Diego resident or not.
Kids will get a kick out of walking on a 30′ x 30′ floor map of San Diego. Also, through December 2012, the TUNA! Celebrating San Diego's Famous Fishing Industry exhibit includes hands-on pole fishing stations packing and canning activities. Yes, at one point San Diego had the largest tuna fishing fleet and was home to major tuna brands until industry changes hampered production. Check the website for other kid-friendly programs. History for Half-Pints occur on Monday mornings where kids ages 3-5 enjoy crafts and story time while Boy and Girl Scouts can earn badges through various programs.
You may also use these tickets at the Junipero Serra Museum in the Old Town area, in lieu of the San Diego History Center.
Make Indiana Jones Proud at the San Diego Museum of Man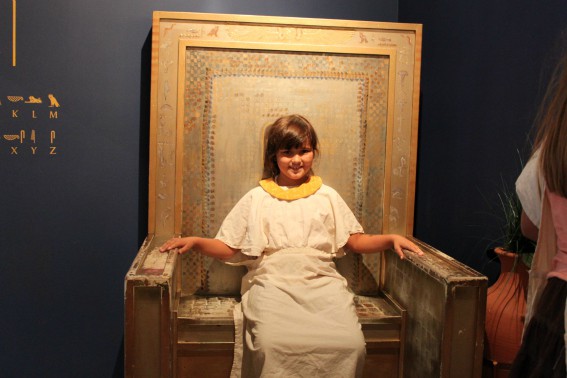 Photo courtesy of the San Diego Museum Council
As the only anthropology and archeology museum in the county, the San Diego Museum of Man delivers two things that kids love: bones and mummies. The Children's Discovery Center has a replica of an archeological dig where kids can look for artifacts, costumes to dress up in, blocks for building pyramids, and kid-friendly explanations of life in ancient Egypt. Start here and then move to the Ancient Egypt, where the mummies and over 400 gifted objects from the Egyptian Exploration Society and local patron, Ellen Browning Scripps, make this one of the most significant ancient Egypt collections in the USA.
Footsteps Through Time: Four Million Years of Human Evolution features more than a hundred touchable replicas of early humans, primates, and futuristic cyborgs (part human, part machine). The rotunda is currently home to the Maya: Heart of Sky, Heart of Earth archaeological discoveries highlighting the creativity and beliefs of the ancient Maya.
Helpful Balboa Park Tips
You can tackle this itinerary in one full day or break it up. If you're going for one full day, check a Balboa Park map (can be found online) and plot strategy in advance, as it will affect where you park. We usually park at the Reuben H. Fleet Science Center and head out from there. The San Diego History Center is in the next building over. You may want to consider returning to the Fleet and driving to the Air & Space Museum at the end of the day, if small legs are getting tired.
Pack a picnic lunch to eat near the fountain, on spacious grassy areas, or outdoor tables. Aching for a sit-down, gourmet meal (and perhaps an adult beverage) in a family-friendly atmosphere? Try The Prado for a California cuisine lunch or unwind there for dinner after a big day.
Balboa Park has a helpful iPhone app available for download, as well. While you are walking between museums, you'll be sure to admire the landscaping and architecture all around the park. Hot tip for moms (and dads) who shop: All of the museum gift shops are free to enter.
Kids Free October
The San Diego Museum Council is kicking-off Kids Free October, presented by Time Warner Cable, where 36 museums will offer free entry for kids all month long with a paid adult admission. To participate, visit the San Diego Museum Council's website to download a coupon and view the list of museums.
The Steal: Win 4 Tickets to Each of The 4 Museums Above
Details: The winner will receive:
(4) tickets to the Reuben H. Fleet Science Center
(4) tickets to the San Diego History Center
(4) tickets to the San Diego Museum of Man
(4) tickets to the San Diego Air & Space Museum
Note: The Reuben H. Fleet Science Center and San Diego History Center tickets must be used by 2/28/13. The San Diego Air & Space Museum tickets must be used by 12/31/12. The tickets are for adults, so bring the kids or take some friends of your own!
a Rafflecopter giveaway

Rules and guidelines:
18 years of age or older
US Residents only
Deadline to enter: October 7th, 11:59pm PST
What is Monday Madness?
Every Monday, Trekaroo announces on our blog, either a fantastic giveaway or an incredible deal. It could be a green water bottle, a hotel stay on Maui or theme park tickets. Return every Monday to the Talking Trekaroo Blog for the details. Want a reminder? Become a Trekaroo member or follow us on Facebook or twitter.
---
Travel with kids to: CA |CO | DC| FL | HI | IL |MA | NC | NJ | NY | OR| PA| TN | TX | UT | VA | WA