Last Updated on
Trekaroo generates revenue from purchases made through links to our partner brands.
Airport Layovers & Transfers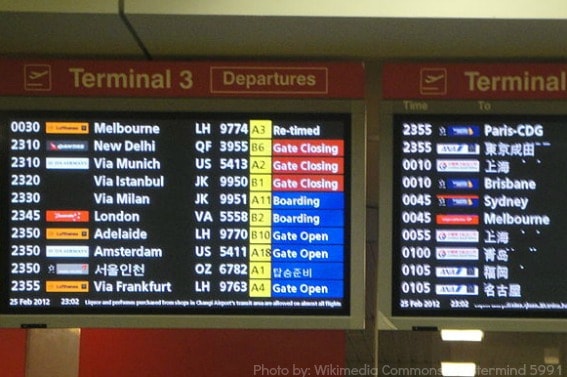 Transfers
Sometimes direct flights just aren't available. When you have to transfer planes on domestic flights within the US, the flight crew will bring baby's stroller up to the gate. But on international flights, different countries have different procedures about whether they will give you the stroller. I highly recommend having a baby carrier of some sort with you. When I flew into Heathrow alone with my 15 month old, they wouldn't give me the stroller at the gate because they said it had to clear customs and I didn't have enough time before my flight out to Edinburgh. I had to lug two bulky carry-ons and a sleeping baby from the international terminal to the domestic terminal. Thankfully I had a baby sling, but by the time I got to the other terminal, I was pouring sweat.
If you are flying alone and need some assistance, don't feel shy about asking the ground crew for some help. They will either pick you up with one of those golf carts or have someone walk over with you pushing a luggage cart.
Tip: When you are checking in for your flight, make sure that you specifically request to have your bags checked all the way through so that you don't have to retrieve it at baggage claim between flights.
Getting off the plane
If someone is picking you up, call them as soon as you land while you're on the plane. Once you're moving with all those bags, it's hard to reach for your cell phone to make that call. If you're counting on them to have a car seat, make sure to ask if it's in the car. If you're into texting, you can actually have your message saved in your drafts section ready to be sent when you have a live connection.
If you've been given a customs form to fill out, make sure that you place this along with your ID in an easily accessible pocket in your carry on or jacket.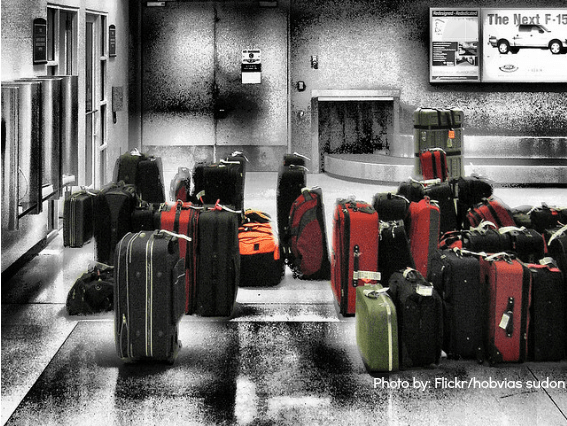 At Baggage Claim
First things first – get a luggage cart. It's totally worth it.
Be careful not to leave baby unattended. If you're flying alone, find a big friendly dude to help you with your suitcases. Most I've encountered feel quite sorry for moms and are willingly to do a good deed for the day and lift a few bags. If you've flown domestically, hopefully your pick-up person will be there to help as well because it's hard to push both a stroller and luggage cart. If you're heading to an international destination and are solo, then hopefully, you can be helped out by one of your neighbors on the flight. There is also the option of hiring a porter to help you with your bags. It is customary to tip a port at least US$1 per bag.
What if you checked a car seat and it is lost? In the US as in most European countries, it is totally illegal to drive a baby in a car without a car seat. If you are in the unfortunate position where the airline has lost your carseat, you can ask the airline to loan you a car seat. When they deliver yours later, they will pick up the one on loan. Another option would be to try to rent one from a car rental agency. This is another good reason not to check in a car seat until you reach the gate.
Clearing Immigration and Customs
Immigration procedures in all the countries I've been to are pretty much the same. You stand in line until it is your turn to step up to the immigration officer. As a family you can step up together and fill out one customs form. The officers might ask some questions, stamp your passport and you're on your way. After you claim your bags, you will have to clear customs. If fruit and meat products need to be declared, be sure to check your bags and discard of leftover produce and meat products. Most of the time, customs forms are given out on the plane and you only have to fill out one per family.
Layovers
With a baby, try to minimize overnight layovers. Checking in and checking out, and going to and fro from the airport to the hotel is very cumbersome. Unless you have a 3-4 day layover, try to avoid the trouble.
Can we do it? Yes we can!