Last Updated on
Trekaroo generates revenue from purchases made through links to our partner brands.
Getting Through the Airport with Baby
Getting ready to leave for the airport
Take a deep breath when you get out of bed. Tell yourself: Today, I will go with the flow. Nothing will be normal, there is no such things as "baby should be sleeping now" or "baby should be eating now." Not today. As a new mom, I was a total stickler for naps and a daily routine. I worried over how I was going to get all those naps in while we were flying. But after a few flights, I realized that if I made sure that baby was well rested prior to a big day of flying, this one day of interrupted sleep and routine is totally fine. What you can expect, is that instead of sleeping for an hour and a half, naps will be more like 30 to 40 minutes.
Depending on how many hours baby is going between feedings, it is a good idea to feed baby just before leaving for the airport. That way, baby is well fed and happy when you arrive. It also means that by the time you're taking off, baby will likely be ready for another feeding and the swallowing will help neutralize the pressure in baby's ears.
Try to arrive about two hours before your flight, so that if you have a poopy diaper to change or are having a hard time getting through security, you won't have to rush through in a panic. Panicked mommy often leads to a fussy child; all that anxiety seems to rub off.
It's a good idea to make sure you have quick access to your ID, boarding passes, and a credit card. I find it best to travel in a pair of pants with pockets so i can slip all these important items into my pockets and reach for them easily then put them away quickly to free up my hands again.
Of course the easiest way to get to the airport with baby is to have a friend drop you off. However, if you need someone to shuttle you, but don't plan on bringing your car seat along on the plane, there are airport shuttles and limo services that will provide a car seat if you ask ahead of time when calling in the reservation. If you are looking for suggestions, ask a question to Trekaroo families to see if anyone knows of a reliable airport shuttle or taxi that provide car seats in your area.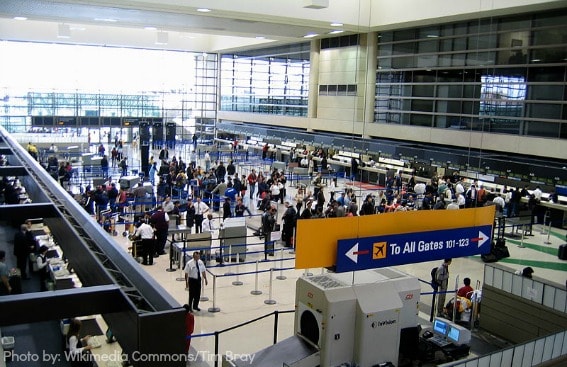 Arriving at the airport
Curbside check-in is a mom's best friend at the airport. Fork out a extra few dollars and get those big bags off your hands as soon as possible. Do not check your stroller until you reach the departure gate. The ground crew will put a special tag on it and give it back to you at the gate, so you can use it in the airport.
When you check in, if baby is flying as a lap child, you can ask if they will put a temporary block on the seats next to you so that those seats will be assigned last. Not all airlines will do it, but it doesn't hurt to ask. If you're bringing along a car seat, hold on to it until you get to the gate. If you get an empty seat next to you, you'll be glad you kept that car seat with you.
If printing out your boarding pass at home is an option, definitely do this ahead of time. Otherwise, if you are parking your car at the airport or dropping off a rental car, it is helpful to arrive a little earlier so everyone including kids can be dropped off at the curbside while one person parks or returns the car. Sometimes the ground crew will check in the missing person and hand them the boarding pass when they arrive with their ID.
Getting through security
Some airports now have a family line at security; check your local airport website to find out if they do. Most of the time, the family line is significantly shorter than the regular line. At security in the US, they will ask you to take your child out of the stroller, fold up the stroller and send it through the x-ray machine. If your child is in a sling, they will ask you to take the child out of the baby carrier as well. Fortunately, TSA now does not require anyone under the age of 12 to take off their shoes to clear security.
Before sending your bags, shoes, belt, and everything else through the x-ray machine, it is always a good idea to put your passport and boarding passes away so that you don't inadvertently put it down somewhere while you are struggling to care for baby while gathering up all your belongings again.
Don't be frantic even if other passengers give you that impatient stare down. As a simple courtesy, you might want to ask a few people behind you if anyone is in a big rush to catch their flight to go ahead of you because it will take you twice as long to make it through this process.
If you're flying with formula, frozen breastmilk, or baby food, be sure to pack off these items in a separate ziplock bag and put it at the top of your bag for easy access. Depending on the security check-in process, the TSA folks might ask to do a quick bomb scan on your baby's liquids. As long as the liquids are for a baby, you can basically bring as much as you'd like. However, they'll often open up each container and either put a piece of paper over it to test for bomb fumes or dip a piece of paper into the liquid. Don't be freaked out. Make sure they have gloves on and don't be shy if you're not comfortable with what they're doing. They should be explaining what they're doing every step of the way.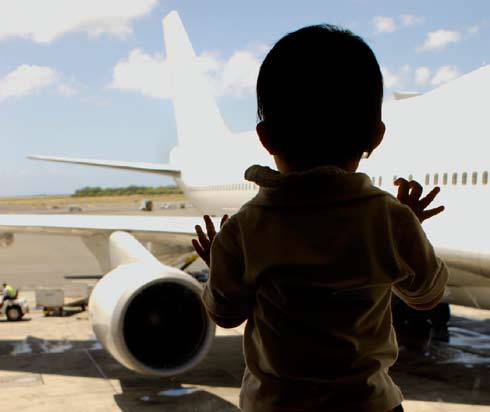 Waiting to board the plane
If baby is already crawling, take this time to give baby the opportunity to get all that energy expended. Have some sanitizing wipes handy so you can give baby's hand a good wipe before boarding the plane. If baby is not crawling, spread out a small sheet or blanket on the floor for tummy time. If you bring toys, be conscious of other passengers. Do not bring noisy toys.
At the gate, ask the flight attendants to provide you with the appropriate tags for your stroller and car seat. Check in with them about the status of the seats next to you so you know whether you should check the car seat at the gate. Also, ask them if the plane has changing tables in the bathrooms. If not, you might want to do a quick change. You might be able to avoid changing baby on the plane altogether.
Now, you are ready to board. Read on for tips on the actual flight.