Last Updated on
Trekaroo generates revenue from purchases made through links to our partner brands.
What to Pack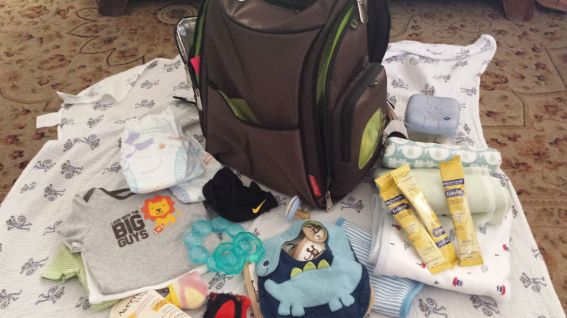 The weeks before baby's first flight, most moms stress out about what to bring along and what not to. It is hard to imagine surviving without all the baby gear you've gotten used to having at home. Believe it or not, I have sat awake thinking about how I could bring a humidifier with us on the plane. After countless trips, I've realized that jetlag is a beast no matter which way you try to spin it. Baby will take about 3-7 days to adjust and that's just a fact of life. Having or not having the same blanket, pack and play and what not doesn't make much difference. So in case you are about to pick up the phone to call grandma to buy the exact brand of crib and sheets to match what baby has at home, talk yourself down because baby can adapt.
Packing as light as possible will make your trip a lot more enjoyable. Read more on packing light for baby to get started.
If you are anything like me, during the weeks leading up to my trip, I am often pouring through reviews on baby travel gear online. So, what are some travel gear items that have been worth every penny? Top on my list:
A lightweight umbrella stroller (MacClaren Volo) or car seat carrier for infants
Ergo Baby Carrier
Kidco Peapod Tent
Tip: Make sure that all your bags and carry-ons including your stroller and car seat are labeled with the phone number they can reach you at your destination. In case they get lost in transit, you'll hear from the airport right away.
Hand Carry – What can't I live without?
I remember obsessing over whether to bring an inflatable My Breast Friend along (I had such a hard time with breastfeeding), a sling, the Moby wrap, or the ergo in my hand carry. What toys should I bring? How many changes of clothes? What kind of baby food or snacks…before I knew it, my carry on was already 50lbs.
What I can't live without in my carry on:
sanitizing wipes, baby's lovie, change of clothes for yourself and baby, ziplock bag for accidents, baby Tylenol, extra diapers and wipes, nasal saline, blanket for baby, and a burp cloth
a light weight and compact baby carrier is really helpful for long flights so that you don't have to cradle baby for hours. My favorties for flying: Native sling and Ergo Baby Carrier.
You can leave these behind:
books or magazines for yourself to read (those days are behind you)
assortments of toys. Under one-year-old, you can create toys from all sorts of things on the plane.
Read Toys On the Fly for ideas
Wondering what kind of bag to use for your hand carry? I have found that a large backpack works the best because it leaves me with two hands free to push a stroller or luggage cart. Do not bring one of those rolling cabin bags. They are bulky to carry and you can only push one thing at a time. Be sure to have quick access to your tickets, reservation info for car and hotel, your ID, credit cards, and a pen.
Preparing for Breastfeeding on the Plane
There is lots of controversy over the idea of breastfeeding on an airplane, but know that it is perfectly legal for you to nurse in an airplane. It's obviously a little uncomfortable to breastfeed with a stranger on your shoulder. Having a bottle for baby makes it a lot easier, but wearing a loose button down cardigan that can drape over you and baby over a nursing top is a convenient way to provide some privacy without having more items to pack in your bag. Some moms love utilizing a lightweight, functional scarf for this same purpose.
Up next. Getting through the airport with baby.