Autumn is one of the best times of year for a family getaway! The summer crowds have departed (along with peak-season pricing) and much of the US is enjoying mild weather and beautiful foliage. Autumn is also the time for a car and tire safety check-up before winter driving.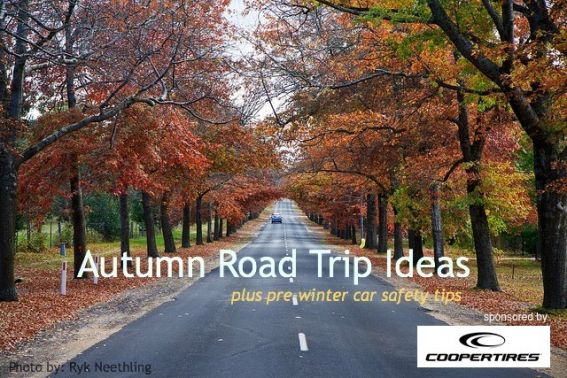 Just in time for annual tune-ups, Trekaroo is reviewing the new Discoverer CTS tire from Cooper Tires. How better to test out a new tire than during a fall road trip? Or better, yet, during two! This month, my family and I got away from school and sports schedules with a quick trip through Oregon, and Superoo Sharon Rowley and family escaped for a trip through New York.
Be sure to enter to win your own set of Cooper Discoverer Tires here on Trekaroo!
West Coast Road Trip: an Autumn Family Escape Through Oregon
During our 48 hours away, we traveled up through Southern Oregon through the state to Portland and back home again, experiencing fall fun along the way. The highlights:
1. Exploring Medford's famous pear orchards. Ever heard of Harry and David? Medford is this gourmet fruit company's home town! Throughout autumn, there are abundant 'U-pick' opportunities in Southern Oregon, including pears, apples, berries, and peaches. Don't want to pick fruit yourself? Stop in Central Point, Oregon off I-5 at Seven Oaks Farm.
2. Hiking Jacksonville's Britt Trails. Need a no-frills pit stop? The Britt Trails are close to I-5, located in the heart of Jacksonville's scenic historic downtown. This miles-long network of dirt hiking and biking trails is punctuated by historic landmarks educating kids on Jacksonville's mining past. The fall colors are amazing here in late September through November, and kids love exploring the hillsides, creeks, and ditches. (Just beware of poison oak!)
3. Driving through Oregon's fertile valleys. The drive from the Oregon border through the Willamette Valley is filled with rolling hills and mountains, vineyards, and orchards. We love stopping for a bite to eat in Eugene's Saturday farmer's market.
4. Playing in the greater Portland region. Portland is a fun and funky city with a playful spirit and lots for kids to do. We love the Portland Children's Museum, the Oregon Zoo, and the waterfront.
East Coast Road Trip: an October Weekend in New York
New York in autumn is a leaf-peeper and outdoors-lover's paradise! Superoo Sharon Rowley and family headed out to enjoy the bounty of this season in New England. Their top moments:
Discoverer CTS Tires:
Getting new tires on your car is a bit like getting new shoes….but instead of feeling as though you can immediately run faster and jump higher, you feel safer and more secure on the road. We put the Discoverer tires on our Toyota Rav 4 on a crisp fall day, and departed immediately for the Southern Oregon portion of our road trip. The car handled well on the dry roads, of course. The very next day, we were greeted with sleet and rain and very wet, slick roads. I can't profess to being a tire expert, but the Discoverer tires were incredibly quiet and smooth on the dangerous roads. This should have been no surprise I suppose as I learned later that one of the top features of the Discoverer is the quiet ride and handling.
Best of all, the Discoverer is an all-season tire that offers a 70,000 mile warranty. This means no more tire purchases for a long time, even for a road tripper like me!
Pre-Winter Tire Safety Tips:
Whether your tires need replacing this winter or not, these tire safety tips, recommended by Cooper Tires, should be part of your autumn routine:
Examine tread: A tire's tread should be checked for overall tread depth and uneven wear, as it is a vital part of handling, cornering, accelerating, and braking. A tire's minimum tread depth should be more than 2/32 of an inch deep all around the tire. Trekaroo tip: Drivers can check tread depth by using a U.S. penny. Insert the edge of the coin into the tread with Lincoln going in headfirst. If the top of Lincoln's head is covered by tread that means there is at least a minimum acceptable amount of tread. If the top of his head is visible at any location on the tire, the tire is worn out and it's time to replace it.
Test air pressure: Tire pressure plays a critical role in the overall performance of tires. Under-inflation creates excessive stress on the tire, while over-inflation can cause uneven wear in addition to handling and braking issues. Drivers should follow the guidelines found in the vehicle owner's manual or tire placard (or sticker) attached to the vehicle door edge to determine the correct air pressure for their vehicle's tires. Trekaroo tip: A common myth is that the tire pressure listed on the sidewall is the optimal pressure, while in reality, it is the maximum pressure.
For more information on proper tire maintenance, visit www.coopertire.com.
More Road Trip Tips and Resources from Trekaroo:
Prepare for your next road trip with the following Trekaroo tips:
Packing your car for a road trip
Trekaroo Road Trip Inspiration:
Become inspired for your next road trip by reading these reviews by Trekaroo families, complete with family-approved itineraries!
A Great Smoky Mountains road trip
A Utah and National Parks road trip
And for the ultimate road trip read: Trekaroo's TROO American Trip
Disclosure: Today's post was written in partnership with Cooper Tires. Enter to win a set of your own Cooper Discoverer tires to be road-ready this fall!