Let's talk autumn. You know, that gorgeous season filled with colored leaves, Halloween costumes, and pumpkin spice everything. It's the time of year when the sun shining through the leaves still left on the trees gives the world a pretty golden hue and the sound of children running through them making that crunchy sound takes you back to when you were a child. And it's coming.
Now, let's talk autumn in New York City. Manhattan is jam-packed with non-stop fun in any season, but there's just something about the mix of the two that draw so many families to vacation there every year when the weather takes on a chill and the sunsets are spectacular. Where are the top spots in Manhattan to enjoy autumn with your family? We've narrowed it down by popular areas to give you ideas of how to plan your next vacation to the Big Apple with your family during the fall months. 
Central Park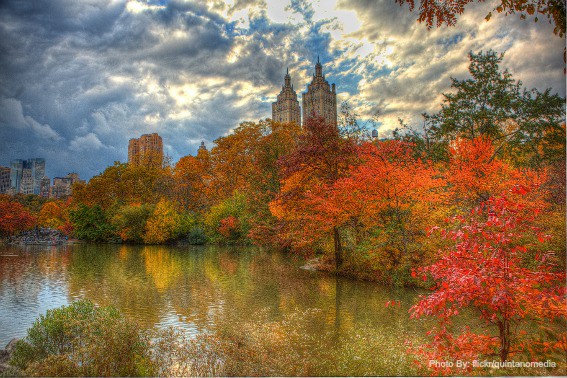 Central Park is quintessential New York City, and the streets surrounding it are always filled with visitors looking for that essence of the big city and laid-back fun. Comprised of 843 acres of lush grass, tall trees, and giant rocks that were meant to be climbed on, the park and surrounding area is filled with autumn bliss. A fun, free (and in my opinion, one of the best!) way to take in all that is New York City in autumn in a leisurely stroll through Central Park. On pretty days, grab some takeout meals and head to the Great Lawn for the perfect picnic lunch. A horse-drawn carriage ride is a great way to see the fall colors in Central Park and kids will love talking to the horses before and after their ride. Central Park Zoo has lots of kid-loving animals, a petting zoo, and is very stroller friendly.
Afterwards, only a couple of blocks east of Central Park south is Dylan's Candy Bar where, if the kid's are asking for dessert, they can pick out old-school candy. Fans of the movie Serendipity will love stopping at Serendipity 3 for their famous Frozen Hot Chocolates that are large enough for two. FAO Schwarz is the two-story toy store that the 1980's movie Big made every kid want to take a turn on their giant piano and a hot spot for taking home souvenirs.
If Central Park and the vicinity seems like an area you'd want to spend much of your time in while vacationing, The Ritz-Carlton New York, Central Park is only a few steps away from the park. Noon horse feedings, a kids-only check-in desk, and a scavenger hunt make this hotel not only kid-approved, but family-friendly and luxurious.
Times Square & Herald Square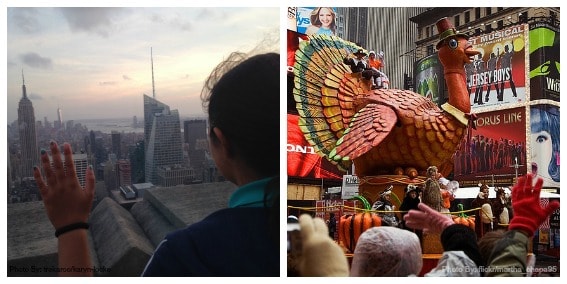 Head only a few blocks south and you'll be in the Times Square & Herald Square areas of town. On Fifth Ave. between 49th & 50th Streets sits Rockefeller Center and its two memorable options for autumn family fun. Top of the Rock gives gorgeous views of the city from 70 stories above ground and has a fun elevator ride to take you there and back .The Rink at Rockefeller Center opens mid-October for ice skating fun, and don't worry about carrying ice skates around town because skate rental is available for visitors. Early to Mid-November is the start-up of Radio City Music Hall's Christmas Spectacular and is always a fun kick-off to the holiday.
Herald Square is the spot to be for Macy's Thanksgiving Day Parade, a must-see when visiting Manhattan on the American holiday. Make sure to bundle up the kiddos and yourself, and grab some hot chocolate and your camera! Also in the Herald Square area is the Empire State Building – famous for its beautiful architecture and scenic views of the city from 102 floors above ground. You'll have no trouble seeing autumn's splendor in the city, and the kids will dig the pay binoculars and the detailed views they give.
Times Square has so many options for families to rest their heads, and Hilton Times Square is a great one! Right beside Madame Tussaud's Wax Museum, the hotel is in the heart of Times Square and within walking distance of kid-approved stores including the World of Disney  Store, Toys 'R Us, and Broadway musicals.
Explore our tips on taking the kids to Broadway!
Battery Park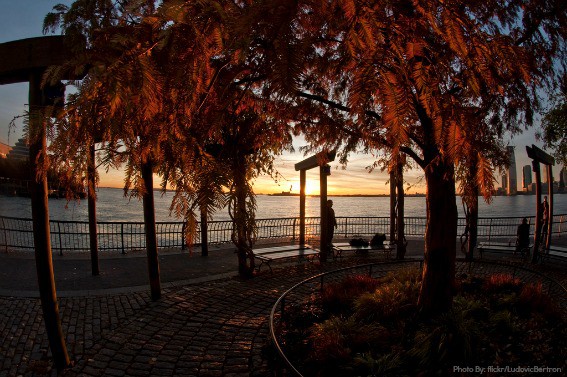 Battery Park is the spot to get away from the hustle and bustle of the city and spy amazing views of The Statue of Liberty. Located in the southern tip of Manhattan, the park is filled with interactive works of art including a splash pad for warm, autumn days. Castle Clinton, now the ferry ticketing office, has an interesting museum inside. Speaking of ferries, a perfect way to see New York City is with a ferry ride around Manhattan or to Ellis and Liberty Islands, or hop on a Circle Line Cruise for a 30 minute to three-hour cruise of the Hudson River highlighting famous New York City landmarks.
Has your family stayed in a hotel near Battery Park? Head over to our user reviews and let us know what you thought of your stay with a review!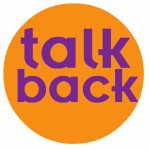 We'd love to hear from you. Has your family visited New York City in the fall? What is your favorite autumn-inspired New York activity? Tell us below in the comments.
Disclosure: The author was hosted by The Ritz-Carlton New York Central Park, Hilton Times Square, and Top of the Rock to give you fine folks the scoop on New York City. While she appreciated the hospitality, she was not asked to give a particular point of view and all opinions are her own.