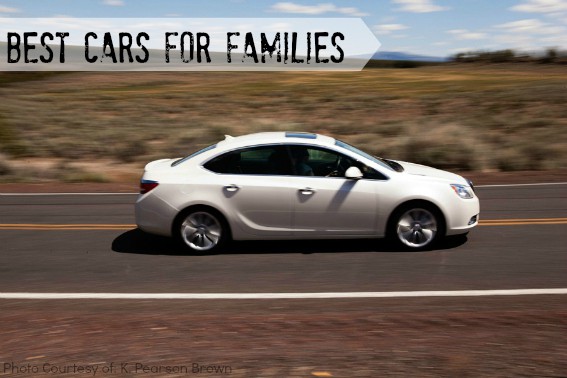 Whether a family enjoys luxury, space, gadgets, or power, there's a 2014 car that fits the bill. I was able to participate in Heels and Wheels, an annual forum where journalists test drive new cars and give car industry executives feedback to help market them to America's primary car buyers — women over 40 and moms. Here are Heels and Wheels' best cars for families for 2014.   
Luxury Family Cars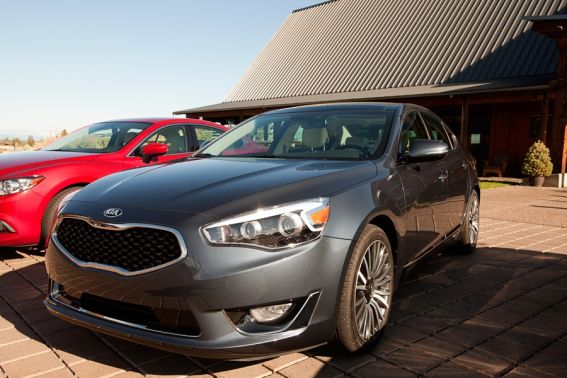 The Jeep Grand Cherokee Overland 4X4 is the manufacturer's premier lifestyle vehicle, featuring such a quiet cabin and comfortable ride it's hard to know it is an off-road vehicle. This family Jeep owes its luxury-car feel to the Quadra-Lift air suspension, which features five height settings for optimum ride performance. It's also loaded with over 70 available safety features including lane departure and forward collision warning systems, adaptive cruise control, side curtain airbags, an emergency 911 call button, and a traction control system that includes five driving modes including one for snow. The hybrid 3.0L EcoDiesel V6 low-emissions engine recharges when the break is applied, and gets 30 mpg on the highway, which is phenomenal for its class. Its base price is $45,995, while the souped-up model runs $51,875.
The 2014 Buick Verano was as quiet as a Lexus, and frankly comparable to any imported luxury car I've ever driven. The Verano's two-toned interior design with buttery soft padded leather seats was not only elegant but sumptuously comfortable. Some folks will never give Buick a chance, holding on to Buick's reputation as an older person's car, but those skeptics should definitely give this car a try. I was impressed by the Buick Verano's smooth ride and peppy sporty feel. I could feel the quiet power of the 2.0L ECOTEC engine, which was thoroughly enjoyable with its manual six-speed transmission. It hugged the road on turns and wet pavement. Plus it had all the bells and whistles: lane change alert, which they call Side Blind Zone Alert, optional rear parking assist and rear cross traffic alert, rear vision camera, and 10 air bags that come standard. Additional technologies include remove starter and Intellilink available through an eight-inch touch screen. My Dad always said you get more car for your money if you buy American, and in this case you definitely get more Buick for your buck. The basic model starts at $23,700. Add on a few more luxuries for the top model at $29,000.
The Buick LaCrosse Touring was one of the most luxurious cars I have test driven lately. When the valet parked it in front of the Ritz-Carlton in Dana Point, it looked perfectly at home alongside the Jaguars and Bentleys. Besides its beautiful exterior styling, the interior is built for comfort, including eight-way driver's seat adjustments plus power lumbar support. The cabin is  roomy enough to stretch out on long trips, and the safety features like side blind zone alert and rear cross traffic alert help make trips more carefree. The IntelliLink infotainment center with satellite radio, Bluetooth connection, and navigation can be controlled hands-free, which is a good thing because the manual button operation of the navigation was cumbersome. The LaCrosse exudes power inside and out, which you can feel as you accelerate the 2.4 ECOTEC DOHC 4-cylinder DI engine, but as you'd expect with a heavy, solid car like this, the 21 mpg on the highway is not the most fuel efficient. Then again, you are in this car for the love of the ride. Starting price is $32,769 or it comes fully equipped at $39,240.
Other than the fact that the 2014 Kia Cadenza's name reminded me of a large piece of furniture in my grandma's dining room, I loved this car. The Cadenza blends luxury with performance to offer a comfortable ride that drives like the sports car you had before you had kids. Its 3.3-liter V6 gasoline direct injection (GDI) engine provides an impressive 293 horsepower paired with a six-speed automatic transmission. Powerful it is, but it still manages to pull out 19-28 mpg — not bad for a car this posh. The UVO eServices with Navigation lets you to use your voice and smartphone to access infotainment and phone features, including vehicle diagnostics checks, roadside assistance, and locations from Google Maps that can be transferred from a phone (with no subscription fees). Other tech features include keyless entry, back-up warning system, and an adaptive front lighting system that adjusts the headlights based on conditions and speed. Inside the ultra-quiet interior, the Nappa leather seats and heated steering wheel remind you that this is a luxury car, no matter how tightly this peppy sedan rounds a corner. The luxury features will cost you a bit more than some of the sedans in the class, starting at $35,100 and ends south of $41,900, but you won't be disappointed with the package.

Quality SUV Choices for Families
For a Jeep that will really flip your wig, try the Rubicon-tested new best-in-class Jeep Trail Hawk, which gleams in its signature Anvil paint job and is styled whimsically like its 1975 "Old Willy's" Cherokee ancestor, only with a completely modern makeover. It's a beauty, with front-wheel drive, 9-speed transmission with 4×4 capability, four or six-cylinder 2.4 liter engine, and the ultra-comfortable quiet cabin that defies its design as an off-road vehicle. It also had all the comforts of a luxury car with hands-free calling and talking, a media hub with a recharging cradle and plenty USB outlets, park assist for parallel or perpendicular parking, adaptive cruise control to a full stop if the vehicle ahead stops, and forward collision braking at the last .5 of a second before a crash to lessen the impact. For the ultimate in comfort, the beautifully stitched leather seats go completely flat and the rear seats recline, in the case of an unplanned camp-out. Other fun amenities included a pet cage and clips for grocery bags.
The 2014 Mitsubishi Outlander crossover SUV has lots of family-friendly features like seating for seven passengers utilizing a fold-flat third row and safety features like lane drift warning, forward collision detection and braking to reduce the severity of a frontal collision, and a blind-spot warning system. But despite the confidence-building promise of Super All-Wheel Control, when I test drove this car in the rain, the back end fish-tailed as I pulled out onto the wet pavement. Perhaps I did not have the proper one of four S-AWC settings engaged, but on the fly I'd want the car to know best and automatically select the best driving mode. In addition to the feeling of the car being light, overall the ride felt hard, as did the seats and the plastic interior. This SUV garnered praise from the testers and elicited respectful nods from the experts who recognized Mitsubishi's reputation as reliable, affordable car built to last. One diehard fan said she still drives her 1999 Eclipse with pride. But it seemed to me the experts were not impressed with this vehicle's performance but with how far the manufacturer had come since appearing on the market. In comparison with other SUVs in this price range, I found that it still has a ways to go. The bare bones model in ES trim runs $22,995, and the top-of-the-line Outlander GT model MSRP is $27,795. Available with either at 2.4-liter, 4-cylinder engine in the SE or 3.0-liter V6 engine in the GT. Depending on the engine option, mph ranges from 28 to 31 on the highway.
The 2014 Kia Sorento SX is a whopper of an SUV that any parent would be proud to cruise up in at the drop-off line. Its roomy interior is full of creature comforts like front row heated seats, nappa leather trim, second-row window sunshades, dual climate controls, a heated steering wheel and a four-way adjustable passenger seat. For larger families, there's an available third row that can be split and folded to accommodate up to 7 passengers. The Sorento offers plenty of amenities for traveling families, like the kick-butt infinity audio system, hands-free Bluetooth connectivity for mobile phones, media outlets for plug in devices, and voice-command navigation with an 8′ touch screen featuring real-time highway conditions from SiriusXM Traffic. Its 3.3 liter engine may not be the most gas efficient, burning 18-21 mpg, but the tradeoff is, well, everything else. Safety comes first with this vehicle, with a rear camera backup camera, blind spot detection, and an advanced airbag system. Priced starting at $35,000 and up to $37,695 with upgrades and the third-row seat, it's a steal for an urban assault vehicle packed with this much power.
Driving the 2014 Kia Sportage, I knew right away where from it gets its name. If I did not know I was driving a four-door SUV I could have imagined I was in a nimble sports car. The feel of the road, the responsive handling, and the dash loaded with lights, bells, and whistles made me reminisce about the days of kid-lessness, when I cruised carefree in my old convertible. And maybe as a 40-something mom I should not care about a kick-butt stereo, but this ride had an amazing audio system with great bass, and Sirius and a plug in an iPhone/MP3 to boot. The lively acceleration of the 2.4L Gasoline Direct Injection (GDI) I4 engine and quick turning action was handy pulling out of parallel parking spots on busy LA streets, and the beeping three-tier back up warning system utilizing a rear mounted camera – with a green-, yellow- and red-zone visual grid to alert you to objects behind you, was very helpful for those same parallel parking challenges in reverse. I loved the large, easy-to-find-in-the-dark ceiling map light, which is super nice and bright  so you can see and find things like a crying baby's dropped binky, toll money, or an elusive garage pass card. The interior was not top-grain kid leather, but that's not a bad thing, as it was soft and pliable enough for comfort without being too delicate for installing children's car seats or enduring the kind of constant in-and-out of the seat action most mommobiles-slash-kid-limos get. My complaints about the Kia Sportage were small. The headrest could have used a few more adjustment options, though it was sufficiently comfortable, and the interior was more hard plastic than padded leather or pleather than some more luxurious SUVs – but then again, it wipes clean easier that those coverings. For the money – starting at $21,600 and $29,000 loaded with tech features like voice-activated navigation, streaming audio entertainment system, HID headlights. and LED rear lighting options, this was a solid choice for a family car that also was thoroughly enjoyable to drive and ride in.
Smooth Family Sedans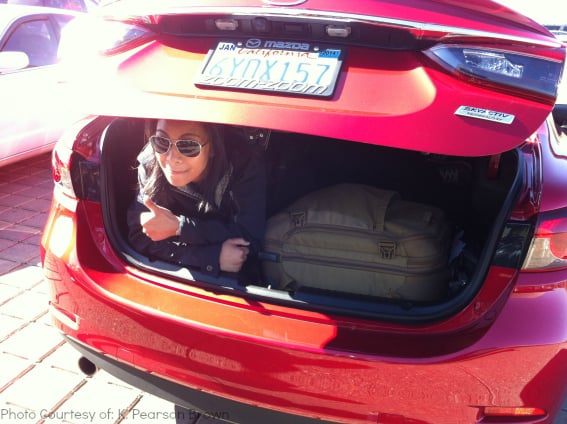 The 2014 Mazda 6 was a car I liked from the moment I put it in drive. It felt solid and smooth on the road. The Mazda 6, featuring a 2.5L engine, competes with the Toyota Camry and other top sedans and surpasses in its pleasure to drive. It features optional navigation, satellite radio, and plenty of tech, including a blind spot warning system, lane change assist, and front-end collision prevention (A Mazda rep can even fit in the trunk.) The Mazda rep recalled how she had tried out the latter feature, the Smart City Brake Support, as part of training. She explained how instinct made it hard to let a slow-speed front collision happen, but through her experience she offered a credible testimonial that it worked, stopping her from hitting another car in front of her. Besides the handling and safety features, the Mazda 6 's amazing fuel efficiency — averaging 40 mph on the highway — is comparable to any hybrid. But rather than make this car a hybrid, Mazda accepts that 90 percent of world's automobiles are run by combustion engines, so the manufacturer has focused on making its cars lighter and more fuel efficient. Soon Mazda will also have a clean diesel coming out. MSRP for the Mazda 6 is $29,495; or loaded it runs $31,490.
The 2014 Dodge Dart is equipped with abundant safety features – count 60 of them available – including a reinforced safety cage, 10 air bags, front head restraints, Blind Spot Monitoring, Rear Cross Path Detection, and selective braking depending on road conditions. Safety aside, and its fuel economy aside (36 to 41 mph on the highway), the tech in this car makes it a blast to drive. The Dart sports an airplane cockpit of features like graphic digital dash display, a huge 8.4-inch touchscreen with voice activation for hands-free navigation, dialing, talking and tuning, and an optional kick-butt Alpine stereo system with satellite radio. For social media addicts, the Mopar Web Module Kit offers Internet connection wherever you ride and within 150 feet of the car. With all its gadgetry, the Dart holds down its price, with six models to choose from, at $15,995 to up to $20,995 with all a full slate of options.
If you've been waiting for a good looking and reasonably priced family sedan hybrid, the 2014 Volkswagen Jetta hybrid is your car. Priced from $25,560 to$32,000, this car keeps on saving at the pump, requiring infrequent refueling approximately every 1-2 weeks for an average driver. The Jetta might be light on gas, but it feels heavy and solid on the road. Tech abounds in this vehicle, with keyless access, one-touch power windows, rear view camera, and VW Car-Net that allows you to have a link between your iPhone and Android devices so you can get restaurant locations, remotely unlock your doors, get alerts from your car, and get emergency assistance if needed. Yet, the most impressive technology is under the hood. The gas and electric motor work together to deliver a turbocharged 170 hp, and the battery gets a constant charge while you drive, thanks to the regenerative braking system where energy is transferred back to the battery every time you brake.
The 2014 Kia Rio is a great small car for bouts around town, commuting, or even a short vacation trip. Priced from $13,900 to $21,340, this mighty subcompact has an unbelievable package of standard features and an amazing premium package for a car in this price class. Standard features include Bluetooth and UVO infotainment system with satellite radio (subscription required). Options include navigation system with Sirius traffic, heated power mirrors, split folding rear seats, cruise control, rear camera display, full-length side airbags, tilt and slide sunroof, a compass, and HomeLink to dim the glare reflecting lights in the rear-view mirror. It's not too shabby on gas either at 33 to 40 mpg on the highway, and it comes with the very attractive Kia 10-year-10,000-miles warranty.
Surprisingly Compact Minivan
One of the best little minivans I have ever driven is the 2014 Mazda5 Grand Touring. It is compact and sprightly enough that I did not feel like I was in a 6-seater minivan, yet with the third seating row put down its cargo area was large enough to fit all our family gear, including skis, boots, poles, puffy coats, and everything we needed for a mountain vacation. Priced at $22,270 for the basics, or $26,125 fully loaded, with a fuel-efficient 2.5L engine that gets 22-28 mpg, it's a great economy family car. The interior feels a little stripped down, but other features help make up for it, like the safety-first rear back up sensors, dual front and side–impact airbags and fast–inflating air curtains to protect all three rows of passengers; dynamic stability control and traction control to prevent wheelspin and increase traction during hard braking, acceleration, and cornering; and available Xenon headlights and halogen fog lights for better vision for driving at night or in inclement weather. The standard tech package is a bit skimpy, though it does include Bluetooth hands-free phone and MP3 player input. Upgrades that I feel are essential for family trips included the overhead DVD entertainment system and Sirius XM satellite radio. For the serious traveling family, the auto-dimming rearview mirror with Homelink is also a nice comfort. If you want to get really fancy, other options include the remote engine start option, moon roof , premium audio system, a rear spoiler, and leather-wrapped steering wheel and shift knob. Overall, a great car, ahem, minivan for the money.