It was a rude shock returning to the US from London and arriving at the departure gate for my American Airlines flight from Miami to San Francisco. Despite the fact that I had just endured an extremely chaotic situation at Heathrow and Gatwick Airports due to snow disruptions, my frustration with American Airlines' appalling service topped anything I experienced in Heathrow and Gatwick just days before. The stark difference in the level of customer care between British Airways and American Airlines was like night and day.
The experience has left me wondering how a supposedly world class airline has come to behave more like a budget airline.  A quick poll on Trekaroo's Facebook page confirmed that my experience with American Airlines wasn't unique at all.   The irony is that it's the budget airlines like Jetblue, Southwest and Virgin America who seem to come up consistently as having great service for families.  Has the world of air travel been turned upside down?
Photo by: Wikihow
Read more about Which Airline Is Most Kid-friendly?
The Character of a World Class Airline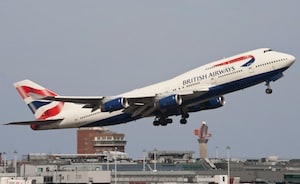 This past December, I flew British Airways from San Francisco to London and what struck me was how much attention both the flight crew and ground staff paid towards customer care.  Even in the midst of dealing with an unbelievably chaotic situation at Heathrow and Gatwick, their staff was polite, helpful, and equipped to help. They behaved exactly as one would expect of a World Class airline.
Photo by: Wikicommons/Josh Hallett
When the unexpected happens, that's when you see a person's true colors.  Same goes with airlines.  During the recent snow storms in the UK, I was caught at both London Heathrow and London Gatwick.  All flights were canceled and delayed for days on end.  While airport authorities performed appallingly, my experience with British Airways was superb.  It was an impossible situation for the airline, but they brought in an army of extra staff who remained patient, polite, and remarkably helpful.  Yes, passengers had to stand in long lines to wait to talk to someone, but when we got to speak with someone, the agents were attentive to our particular predicament and bent over backwards to resolve your situation from beginning to end with polite attentiveness.
Here are two impressive examples.  When I told a ground agent that I was trying to get to my grandma's funeral, he took me aside and secured me the last seat on the next flight out so that I wouldn't have to stand in a 3 hour line.  A few days later on my return journey, I got in front of a BA ticketing agent named Scott at Gatwick airport.  After having a miserable time trying to rebook a canceled flight on ba.com and over the phone, Scott was a breath of fresh air to this weary passenger.  I explained how I ended up buying an entirely new ticket that cost £1800 to secure the last seat on a different route.  It was far from a conventional way to rebook, but he spent all the time necessary to sort out my bookings.  I was able to get home for Christmas without paying a hefty bill.  I never needed to get tough or confrontational. British Airways was even ready to upgrade me to get me home.
Now, contrast this to my experience with American Airlines.  After arriving late from Heathrow, I reached the gate for my connecting flight only to find that they had given away my seat just 3 minutes earlier.  The ground agent showed no interest or sympathy that American Airlines has caused me to miss the final boarding call by 3 minutes due to their error in printing the wrong gate number on my boarding pass.   To further frustrate the situation, the gate agent refused to­ help me get on the next flight.  She didn't even take the time to see if there was another flight we could rush to, nor did she explain where we should go to rebook our flights.  She left without explanation after keeping the few passengers in the same predicament waiting for 20 minutes.  Finding myself back outside at the check in counter, the experience was the same.  The agent was more concerned about getting off her shift rather than looking for a flight I could get on that evening.  Resigned that I would have to fly out the next morning, she refused to put me up in a hotel while I waited to get on my next flight out the next morning.  Her glazed over expressionless face said it all, "You're just another annoying passenger and I couldn't be bothered if you get there today, tomorrow or in a week."  It was nothing short of a frustrating experience in what seemed like a pretty normal situation.  I shudder to think how American Airlines would care for their passengers under a more chaotic situation like I had just experienced in London.
So, I trudged over to British Airways with my bags and waited for their ticket agents to return to the counter.  Although it was they had already sent off the last flight for the day, they stuck around for the extra 10 minutes it took to booked me into the Marriott and provided me with meal vouchers for dinner and breakfast.  Now that's what I call acting like a top-class airline.
So really, what are the advantages of flying a big airline like American Airlines or United Airlines?
Do they have better on board amenities?  – No
–       My flight from Miami to San Francisco didn't have a personal entertainment system like you'd find on Jetblue or Virgin America.
–       You now have to pay for food on domestic flights just like on any budget airline.
Are tickets competitively priced?  Not really.
–       The big airlines like American and United are coming down in price, but when you get a deal on Jetblue, Virgin America, or Southwest, their rates are a steal on high traffic routes.
–       In fact, the big guys like American and United now charge for check in bags.  And surprisingly, it's the budget airlines like Southwest (2 checked bags) and Jetblue (1 checked bag) who still offer free checked luggage allowances.
Do flight attendants provide better customer service? – No

–       Flight attendants are no more helpful than on other airlines, in fact the budget airlines like Southwest and Jetblue consistently get voted by Trekaroo families for having the best service.
The only reason I can really think of to select the big guys like American or United is for the volume of routes they cover.  In some instances, they may be your only option.  However, for the best price, you can almost expect them to route you through one of their hubs before taking you to your final destination.
The state of American Airlines really is tragic.  If you're looking for great customer service, great prices, and some nice extras, steer clear of the big airlines.  The following airlines from my experience and those of other families on Trekaroo are the ones who continue to shine in the eyes of their customers.
US Domestic: Virgin America, Jetblue, Southwest, Midwest
Europe: British Airways, Virgin Atlantic.
Asia and the Pacific: Singapore Airlines and Cathay Pacific.
Middle East: Emirates Air, Qatar Air
If you've had a great experience with any airline, leave a comment below sharing with us how an airline took really good care of you.
Related:
—–
LiLing Pang is co-founder of Trekaroo – a reviews website dedicated to exploring and traveling with kids.
Travel with kids to: CA |CO | DC | FL | HI | IL |MA | NC | NY | OR | PA | TN | TX | VA | WA