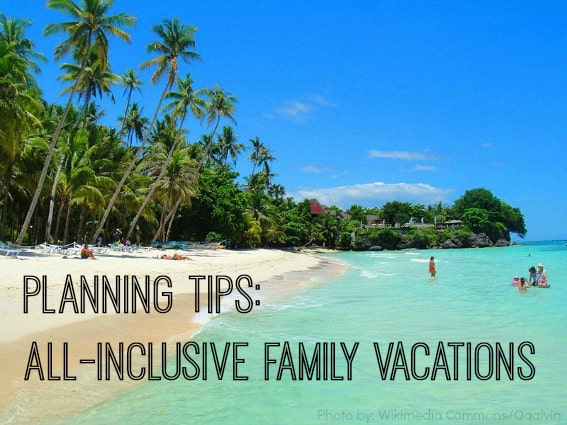 We love all-inclusive resorts because they make for stress-free family vacations. Parents have the luxury of saying 'yes' to their kids all day long, and no one has to budget for dinners out. The activities kids see around them at an all-inclusive resort are accessible to everyone, and because there's so much to do on site, families can stay put once they unpack.
During my kids' first all-inclusive family vacation experience, they couldn't believe they were 'allowed' to order fun, tropical smoothies and fruit juices whenever they liked. My kids grew giddy at the opportunity to check out kayaks and snorkel gear from a beach side rental shop as the mood struck. We were all able to be more spontaneous during our beach vacation, and I know that for me—the vacation planner in our family—my blood pressure definitely went down as I worked on my tan!
There's much to love about all-inclusive resorts, but before booking one, be sure to heed the following tips to ensure you're getting exactly what you expect.
Sponsored by Palladium Hotels and Resorts:
There are currently 12 Palladium Hotels & Resorts located in Mexico (Riviera Nayarit and Riviera Maya), the Dominican Republic (Punta Cana), Jamaica (Montego Bay), Spain (Ibiza) and Brazil (Bahia), all owned and managed by Palladium Hotel Group. Whether guests are whale watching in Riviera Nayarit or snorkeling in the shores of Punta Cana, the resorts ensure a memorable vacation experience for all. Each property offers a wide variety of restaurants, spa services, recreational facilities and age-specific kids clubs. Please visit www.palladiumhotelgroup.com.
1. Look for an all-inclusive resort that fits your style of vacation. 
Just because you're at an all-inclusive resort doesn't mean you can't be adventurous: if you're a family that likes to explore and keep busy, make sure the all-inclusive resort that you select is close to day excursions and in a safe neighborhood if you do plan to venture off-site often. Is there reliable transportation around the region? Are meal times flexible so you can come and go as you please? On a recent trip to Riviera Maya, Mexico, we stayed at one all-inclusive resort that was quite remote (and an expensive taxi ride to area attractions) and one that was located in the heart of it all. Both had their perks, but it was good to prepare a game plan based on geographic considerations.
Likewise, if you seek a vacation where you stay in one place the majority of the time, will the all-inclusive you've selected have enough activities on-site to keep everyone busy? Are there beach, pool, and play options on-hand? Will you have to travel to get to a beach? Most all-inclusive resorts offer the best of both worlds—easy transportation for those who want to explore, plus plenty to do for those who want to stay put—but a little research never hurts!
2. Make sure your all-inclusive resort truly is. 
The term 'all-inclusive' can sometimes be misleading in advertisements and on booking sites. Make sure to click through all the way to the resort's official home page before booking, instead of viewing information solely on booking sites. All-inclusive hotels like Palladium Hotels and Resorts will clearly list what is included in your all-inclusive stay. A true all-inclusive experience will include meals, kids' clubs, on-site programming and entertainment, and lodging. Common categories often not included in an all-inclusive family vacation: 1. specialty alcoholic drinks, 2. motorized watercraft available for rental (though usually small watercraft such as sea kayaks are included), 3. speciality dining experiences such as private dining, and 4. in-room babysitting.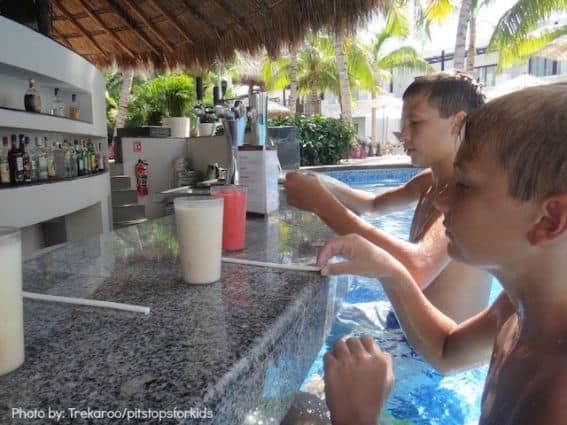 3. Get a feel for the vibe of your all-inclusive by reading user reviews.
Some all-inclusive resorts have a reputation for hosting young partiers or spring break crowds, which is usually off-putting to families. Reading reviews of your all-inclusive resort options will give you a good feel for the flavor of the resort. Look in particular for complaints of excessive noise or large crowds during March and April.
4. Start your all-inclusive family vacation off right with a few family rules.
If you normally restrict sugar or other sweets for your children, the sheer offerings available at an all-inclusive resort can be overwhelming (and thrilling!) to kids. While it's tempting to ease up on family rules while on vacation, we've found that by enforcing a few resort rules during our stay, everyone is better nourished and ready to tackle fun experiences. Whether you want to restrict sugary drinks to a maximum per day or insist upon healthy snack options at regular intervals, the best all-inclusive resorts will be able to help you along with whole foods in the form of fresh fruit bars, natural smoothies, and even baby food for the youngest vacationers. Seek and ye shall find!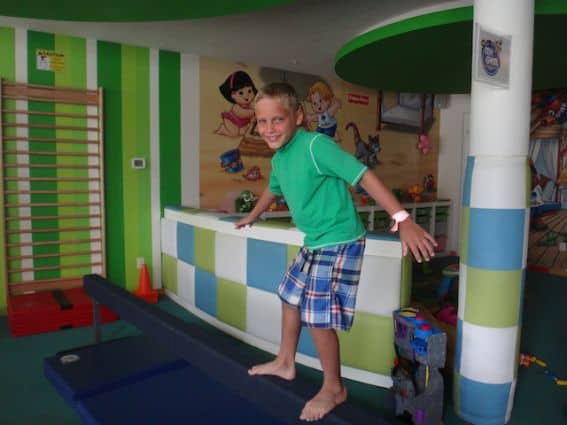 5. Check age restrictions for hotel activities before you book.
There are few things worse than a disappointed child on vacation who finds him or herself too young or too old to enjoy select programming. Check all age restrictions before booking, including those for children's clubs (usually ages 4-12) and teen clubs (usually 13-17). Will there be childcare for your toddler or baby? If not, how about in-room caregiving? Find out if the resort has staff on-hand for babysitting, or whether they recommend an outside source. Some resorts even offer an all-inclusive nanny during your stay. Also check age or potty-training restrictions in pools and play areas. Are there kid-only pools? Adult only? Only you can decide what will work best for your family!
Related:
Explore the Best All-Inclusive Vacations for Families and for School Aged Kids, Teens & Tweens
Find the Best All-Inclusive Vacation Deals
Plan ahead with these All-Inclusive Family Vacation Planning Tips