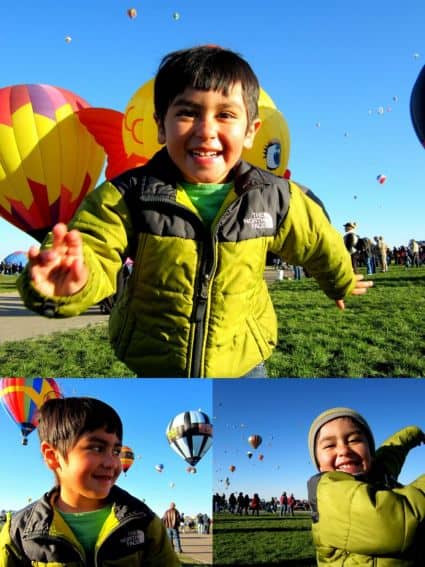 I first learned about Albuquerque, New Mexico's International Balloon Fiesta five years ago while researching vacations online. A picture of a beautiful blue sky filled with hundreds of hot air balloons caught my eye and engaged my interest so I clicked on the photo to read the story behind it; a story I'll share with you today. Before I start, I'd like to point out that five years ago (before my son was even a glimmer in my eye) Albuquerque's International Balloon Fiesta landed a spot on my bucket list because a beautiful picture inspired me to dream. Yesterday, that dream came full circle when I attended the 41st annual Fiesta with my son! If you're reading this blog, chances are Trekaroo has inspired you to travel. Here's to your dreams becoming a reality!
Albuquerque's International Balloon Fiesta is the world's largest hot air balloon festival. This year, thousands of people from around the globe have flocked to Albuquerque to watch the sky fill with hundreds of beautifully colored balloons of all shapes and sizes. Some of my favorite balloons are Aaron, an Elvis Presley balloon; a Darth Vader head; and Humpty Dumpty. Sounds kid friendly right? That's because it is, it's incredibly kid friendly. In addition to the balloons, other family friendly events inside the park include:

Special Shape Rodeo and Glowdeo
Special shape balloons made their maiden appearance at the Fiesta in 1989 and they've been uniquely featured ever since. This year, over 100 creative balloons take to the morning sky in larger than life grandeur. Special shape balloons included Simba, a lion head from Belgium; Cosmo, a Texas astronaut; a chocolate ice cream cone from Kentucky; Funny Phant, an elephant from Brazil; and many, many more. Later in the evening during the Glowdeo, the balloons are grounded but remain inflated with their lighted burners generating a dazzling glowing effect.
Twilight Twinkle Glow, Balloon Glow, and Night Magic Glow
Just before sundown the Night Magic Glow, the Balloon Glow, and the Twilight Twinke Glow light up the night sky with a kaleidoscope of vivid colors when the balloonmeister orders the mass ascension of hundreds of brightly hued balloons to take flight into the sky above Balloon Fiesta Park. During this unique event, guests are free to walk amongst the balloons to get intimate views and to speak to flight crews. The event closes with a spectacular fireworks show.
Uniquely Albuquerque
The 2012 Albuquerque International Balloon Fiesta runs from October 6-14th and is a magical experience for every member of the family. For nine popular days, Albuquerque's skies are decorated with hundreds of balloons from 19 countries. Crowds of beaming, upturned faces, spellbound by the majesty of hot air balloons simultaneously sailing through the air is emotion that can't be explained. You must come for yourself. I recommend staying at Albuquerque's Embassy Suites where many of the balloon pilots stay and meet to trade Balloon Fiesta Pins. Balloon Fiesta Pins are highly coveted yearly emblems.  It would be fun to see how many pins a cute preschooler could charm into their possession simply by asking. Who could say no to a four year old?

There's much more to explore.  Check out Trekaroo's

We are linking up with other family travel blogs today from SixSuitcaseTravel's Family Travel Friday Blog Hop! Check out all they have to offer:
Strip Photos by: (top to bottom) Tina Buell, flickr/thelazydba, flickr/littlemoresunshine (2), Tina Buell(2), and flickr/andrea_johnson
Disclosure: I received complimentary admission to the Balloon Fiesta and a discounted rate at the Embassy Suites to complete this review but all opinions are my own.
---
Travel with kids to: CA |CO | DC| FL | HI | IL |MA | NC | NJ | NY | OR| PA| TN | TX | UT | VA | WA