I had high expectations for our trip to Peru with Adventures by Disney and Disney managed to exceed every single one of them. During my time on the tour bus, I got to thinking. How does Disney decide which trips to offer and which activities to include in said trips? Where do they find these incredible guides? How do they get my luggage through the airport without me touching it? I decided to ask the expert, Heather Killingbeck, Director of Development and Operations for Adventures by Disney (aka: the lucky woman who gets to put together all these incredible trips), so we could all gain a little more insight into the makings of an ABD vacation.
1. Peru was one of the original Adventures by Disney destinations and one of only two South America destinations. What made you decide to pick Peru?
First, we recognized that Machu Picchu is a bucket list destination for most travelers. This site, along with the stories we tell of the Incan civilization and culture, are rewarding components for parents from an educational point of view. Moreover, Peru is an "exotic" destination, yet also has service standards we knew would meet our own high Disney standards. Finally, Peru is a colorful country with so many rich stories to weave through an itinerary. We knew it would be a great fit for us. 
2. It was obvious that every experience on our trip was well researched and the details were thought out by the trip coordinators. How did you decide which activities to include in this trip when there are so many great things to see and do while in Peru?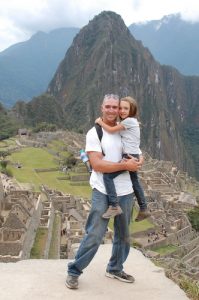 Good question! This is always the most challenging aspect of trip development. Knowing that many, if not all, of our guests may only go to Peru once in their life, we felt an obligation to certainly deliver on the iconic sites and places. This includes Machu Picchu, the Unesco World Heritage Site city of Cusco, and Ollantaytambo. After these "musts haves" are in place, we explore all of our other options and analyze the operational logistics that go along with each of them. Of course, we perform thorough site inspections on each and every activity, dining venue, and accommodation choice. Since we are developing our itineraries with families in mind, we look at every choice through the lens of both the 5-year-old as well as his/her 89-year-old grandparent.  We recognize that our guests will likely make their choice of trip based on the iconic elements of an itinerary; however what they usually go home raving about are these "hidden gems" with which we pepper all of our trips.
3. My children's favorite activity in Peru was our river rafting excursion on the Urubamba River. I've noticed that quite a few Adventures by Disney destinations feature a river rafting trip. What made Adventures by Disney decide to include rafting on so many trips?
 Adventures by Disney tells the stories of destinations around the world. We do that in an as active way as possible, while being suitable for most ages and physical abilities. We find that river rafting delivers well on this goal. Our guides and local experts are able to use the river and the surrounding landscape as a canvas for their storytelling, while our guests are having an exciting and fun-filled morning or afternoon with their families.  
4. Our guides were phenomenal. Ernesto, our local guide knew the answer to every question we threw at him and his stories about his people, the Wari, added so much to our own understanding of life in the Peruvian Andes. Where do you find such incredible people to lead these trips?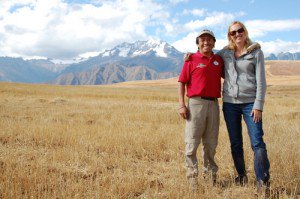 Certainly not an easy task! We feel our Adventure Guides are the most important key to the success of each and every trip, so we go to great lengths to find just the right candidates.  Our internal recruiting partners are experts at finding individuals who are storytellers, diplomats, disciplinary experts, concierge-level guest service providers, logisticians, translators, tech-savvy, and fun people to be with! Then, since we always have two guides on every trip, we take great care to ensure they are paired up with another guide they can really "mesh" with to ensure the best experience possible for our guests. In addition to having skilled recruiters, we have a manager dedicated to their "care and feeding" in order to ensure consistency throughout our portfolio.
5. I am dying to know, how does Disney get our luggage from our original hotel, onto the airplane, and to our new hotel without us ever having to lift a finger or deal with one airport official? Is there any way Disney can start handling my luggage on all my upcoming vacations?
Ha! While I can't share all of our secrets I will say that it's equal parts art and science.  
6. I fell in love with South America on this trip. Does Disney have plans to add any more South American itineraries to its portfolio?
We are always adding new destinations to our portfolio. As long as there are more places with stories to be told, we will continue to look in all corners of the globe. South America certainly has a culturally diverse assortment of places up for consideration… so stay tuned! 
7. I am officially sold on Adventures by Disney. Which trip should my family take next?
 I get asked this question so often and honestly my reply is different each time. I truly believe all travel, regardless of whether you are traveling to a destination near or far-flung, can be fun, enriching, and life-changing. That said, these days I'm feeling especially partial to trips that feature animals, especially for families with children. So, if I were you, I would consider Ecuador and the Galapagos, South Africa, and Australia. Seriously, what child would not be thrilled by seeing a genuine Tasmanian devil?
More in this series
Adventures by Disney Peru- the "I can't believe we are going to Peru post".
Adventures by Disney Peru Part 1
Adventures by Disney Peru Part 2
Disclosure: My family visited Peru with Adventures by Disney as part of a media tour. Our tour and a portion of the airfare was provided by Disney but all opinions are provided by yours truly.
---
Travel with kids to: CA |CO | DC| FL | HI | IL |MA | NC | NJ | NY | OR| PA| TN | TX | UT | VA | WA