Last Updated on
Trekaroo generates revenue from purchases made through links to our partner brands.
Often times, large families can feel limited in their vacation lodging options since standard hotel rooms usually sleep 4 guests (sometimes 5 with a crib or roll-away bed). Lucky for us, there are many more places to stay than the typical hotel room. Check out the pros and cons for a variety of accommodation options for large families or groups.
Hotels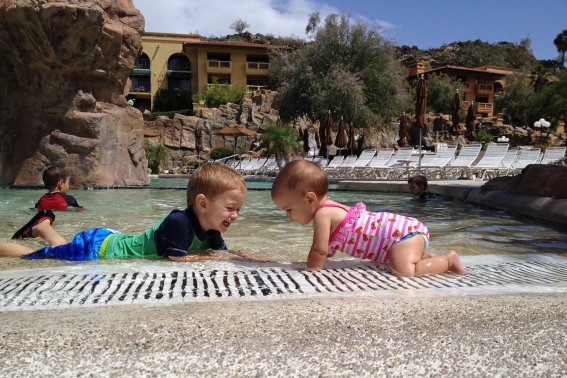 Photo by Tiffany Vaughn
While the 2 queen room may not always be an option anymore, large families can still stay together in a hotel. Make sure to choose a hotel that offers non-standard rooms (more than 2 beds), adjoining (connecting) rooms, or multi-bedroom suites. If you have a large group, it's also good to request a ground floor to avoid complaints from downstairs neighbors.
According to Theresa at SixSuitcaseTravel, hotels are the best choice for multi-destination trips.
"Hotels are usually the best choice (for large families) as some vacation rentals have minimum stays or added cleaning fees. Hotels for big families are also a good choice in smaller destinations as vacation rentals can be sparse. Hotels may offer savings when heading to the big parks as some properties offer both park and airport shuttles, thereby cutting the cost of renting a big van."
When to Choose a Hotel:
Booking two connecting (or adjoining) rooms is a great option for families with older kids or teens.
Pros:
Cleaning service is included

Many hotels offer free breakfast, thus budget-saving

Separate rooms allow for different sleeping schedules like naps or early bedtimes

Amenities like workout rooms and, most importantly, pools!
Cons:
No kitchen/living area

Younger kids may have anxiety about being in a separate room

Safety issues with younger kids because of a door leading out of room

Not a lot of room to play inside the hotel room

Hotel room neighbors (more pressure to keep kids quiet).
A hotel room with a living area and bedrooms provides room to sleep and relax. Some hotels call a room a "suite" if it has a couch, so be sure to confirm your room has a separate living and sleeping area.
Pros:
Cleaning service included

Kitchen/living area

More space than typical hotel room

Separate space to put baby down for a nap or earlier bedtime

Pools, gyms, etc, along with many hotels offeing free breakfast. (Some of the extended stay chains even offer dinner or evening snacks.) 
Cons:
Hotel room neighbors (pressure to keep kids quiet)

Some suites are still only made for 4 and most hold 6 max.
Pointe Hilton Tapatio Cliffs Resort in Phoenix, Arizona is an all-suites hotel with the option of adjoining suites-That's enough beds for 12 people!
Rental Homes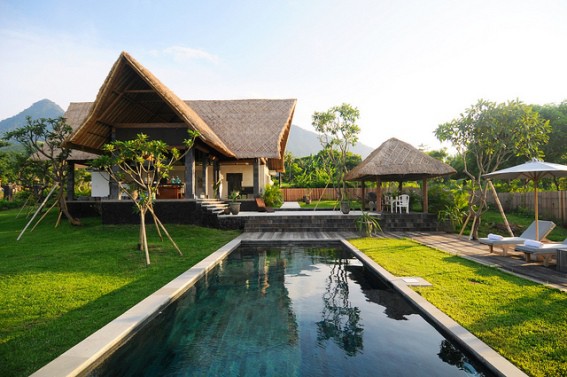 Photo by Flickr/Bart Speelman
Staying in a rental home or condo lets families have a home away from home.
Check out this article for a list of reputable sites for booking a vacation rental.
When to Choose a Rental Home:
Vacation rentals are great for extended stays. Lots of people can stay together with all the comforts of home, including private bedrooms and full kitchens. Save on food costs by cooking your own meals. A large rental home is ideal for multi-generational travel, when you want to be close to grandma but not necessarily share a room. Many locations also have extra perks, like a yard, private beach, or pool.
Pros:
Usually no other guests to worry about

Feels like home

Separate bedrooms and living areas

Full kitchen, along with possibility of special amenities (like grills, yard, private beach, etc)

Prices are usually less than getting multiple hotel rooms
Cons:
No cleaning service

Sometimes there are extra charges per guest

Cleaning fees

Minimum stay requirements.
Nervous about trying a rental property? This article on renting a vacation home for the first time will guide you through the process.
Camping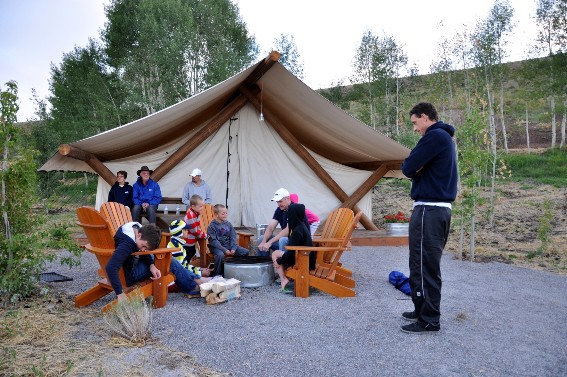 Photo by: Trekaroo/danyap
Family bonding shines while sleeping under the stars. Whether you stay in a tent, camper, or a yurt, camping is a great experience for large groups.
When to Choose Camping:
If you have a rowdy bunch who likes the outdoors, camping may be for you. You can run and play without worrying about disturbing hotel neighbors or destroying rental property. Camping is also a great choice if you're on a tight budget. At some destinations, like national parks, camping may be your only option.
Sleep in one big family tent or split up into multiple tents; just make sure to bring enough sleeping bags and pillows for everyone.
Pros:
Low price

Lots of room for kids to run

Novelty

Lots of people can stay together, especially with group sites.
Cons:
Bring all your own stuff

Less than ideal bathroom situation (if your campground has toilets, you still need to walk to them)

Easily affected by noisy camping neighbors.
Save some space in your tent with these awesome Kid-O-Bunk cots.
With Campers, Trailers, & RVs, families can stay outdoors with all the benefits of the indoors.
Pros:
Beds

Can regulate temperature better than in a tent

Kitchen, and can include your "comforts of home"

Electricity

Don't hear the sound from other campers.
Cons:
Added costs for gas

Maintenance like emptying toilets and filling water

Limited mobility with RVs (not so much for trailers as you still have a car)
Considering an RV vacation? Head over here from some great tips: How to Have a Great RV Family Vacation.
There are many non-traditional ways to camp, each with their own benefits and many that are ideal for large families. Check out these cool camping alternatives including yurts, treehouses, and cabins.
Conestoga Ranch at Utah's Bear Lake offers luxury tents and Conestoga wagons that sleep up to 8 guests.