Looking for the best weekend family getaways in PA? Tubing and skiing at Seven Springs Resort is one of the best things to do this winter in Western PA. The Laurel Highlands are a beautiful place to take a Pennsylvania vacation in the wintertime. You couldn't ask for a more family-friendly mountain resort than Seven Springs. Read on for my family's experience there in the winter of 2016.
Looking for Things to Do in Western PA this Winter? Go Skiing and Tubing at Seven Springs Resort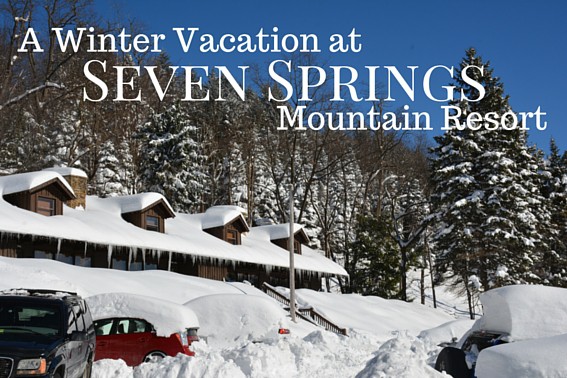 Our Story – A Winter Weekend Getaway in Western PA at Seven Springs Resort
My phone beeped alerting me to the message that the county had proactively canceled school for Friday in the wake of the incoming January 2016 "Snowzilla" blizzard. Without even a dusting of snow on the ground, I scrambled to modify my weekend plans to accommodate the impending storm.
Weeks beforehand I had booked a Saturday through Monday weekend family getaway in PA with a girlfriend at Seven Springs Mountain Resort in the Allegheny Mountains. I planned to send my kindergartener and first grader off to ski school during the day to get some downtime to chat with an old friend. By the time we drove out of Seven Springs Resort on Tuesday at noon, away from the 32 inches of fresh fallen snow, I had spent four nights solo with my kids at the Seven Springs Resort. My friend had not been able to make the drive up the mountain.
While my weekend family getaway in PA did not go according to plan, my kids and I enjoyed a snowy Pennsylvania vacation of a lifetime. Over the course of four days, we experienced almost everything that Seven Springs Resort has to offer from indoor swimming and roller skating to Seven Springs tubing, and skiing.
Ski School at Seven Springs Resort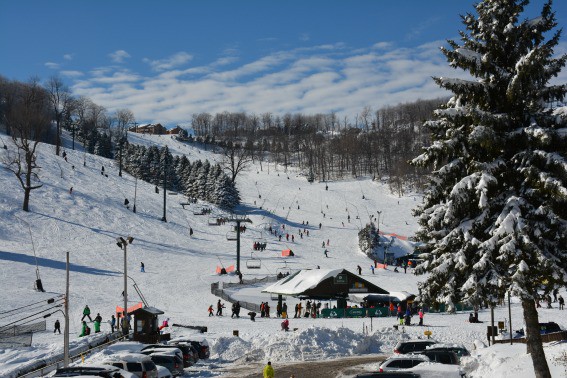 Photo by: Melissa Moore
Seven Springs Mountain Resort has 33 slopes/trails and 10 lifts making it one of the largest and most popular ski resorts in the mid-Atlantic region. It's located in Western Pennslyvania's Laurel Highlands.  It is only one hour's drive from Pittsburgh, three hours drive from Washington D.C. and a relatively short three to four hours from Western Ohio's major cities. During our four-day stay at the Seven Springs Resort, virtually every guest that I spoke with had traveled from one of these nearby metropolitan area. They consistently named Seven Springs as their favorite place to ski close to home. Skiing at Seven Springs Resorts one of the best things to do in Western PA.
My Experience with Ski School at Seven Springs Resort on a Pennsylvania Vacation
Being a relatively novice skier, I have much more experience with Seven Spring's Snowsports School than the resort's award-winning terrain park. I took a beginner ski lesson the day after a blizzard cleared, leaving almost three feet of fresh powder on the mountain. After checking my kids into a full day of ski school, I walked right next door to the Snowsports School on a whim determined to take advantage of the ideal snow conditions. In 30 minutes, I had registered for a two hour group beginner lesson, checked out my gear at the rental center, and walked out to the bottom of the slopes where the snow pros were awaiting my arrival. There were so many instructors available when I arrived that I ended up with a 90-minute private lesson, which took me successfully down the mountain twice, instead of a two hour group lesson.
My Children's Experience with Ski School at Seven Springs Resort on a Pennsylvania Vacation
My kids, also relatively inexperienced skiers, grew by leaps and bounds at Seven Springs Ski School. They both spent two and a half days in the Tiny Tots program. Drop-off was a breeze, they begged to return after every lesson, a healthy lunch was provided, and their snow pros filled out detailed reports of their progress at the end of each day. What more could a parent wish for? Now, my daughter is a more skilled skier than myself. We are ready to hit the slopes together on our next ski vacation.
 Seven Springs Tubing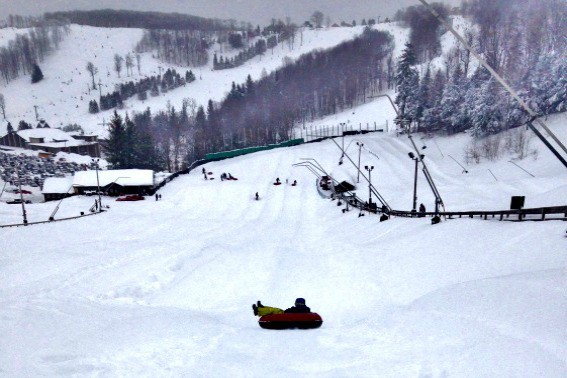 Photo by: Melissa Moore
With so much fresh powder on the ground, I made every effort to get outdoors to take advantage of it. On our first day, during the final moments of the historic blizzard, we took our first trip outdoors since arriving at the lodge about 24 hours prior and walked across the parking lot to the Seven Springs tubing hill. The typically well-groomed lanes of the Seven Springs tubing hill were obscured by the feet of fresh powder and the slowly falling snow; in fact, only three lanes were cleared out enough to slide down. However, the extra snow just added to the fun. My kids loved the relatively bumpy ride down the hill, which often sent them flying for a moment, both unaccompanied and tethered to my tube.
A Peaceful Snowshoe Hike through the Woods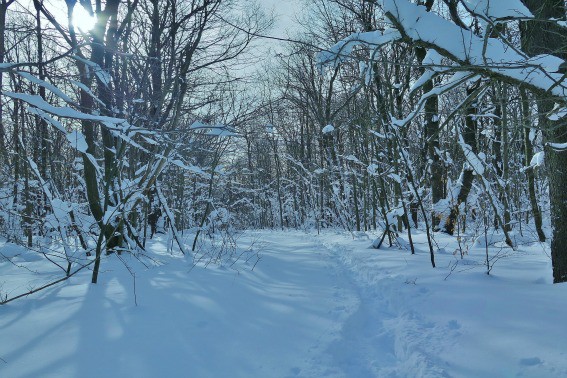 Photo by: Melissa Moore
There are no shortage of ways to enjoy the snow at Seven Springs Resort. I considered the possibility of going on a sleigh ride, snowmobile tour, or snowshoe tour. But, ultimately, I found that the staff who had kept the resort running all weekend long by working extra long shifts had understandably decided to take a break. So while my kids were out at ski school Monday morning, I took the snowshoes that I had brought from hom out on a trail. Based on some tips that I got from the hotel concierge, I found a trail on top of the mountain by the condos that someone else had recently used for snowshoeing, and I followed their tracks.
After a loud, busy weekend with the kids, there's nothing quite like snowshoeing through the woods in complete solitude; the peacefulness is inexplicable. Snowshoeing is one of the best things to do in Western PA during the winter. 
Swimming, Miniature Golf, Arcade and Roller Skating – Best Weekend Family Getaways in PA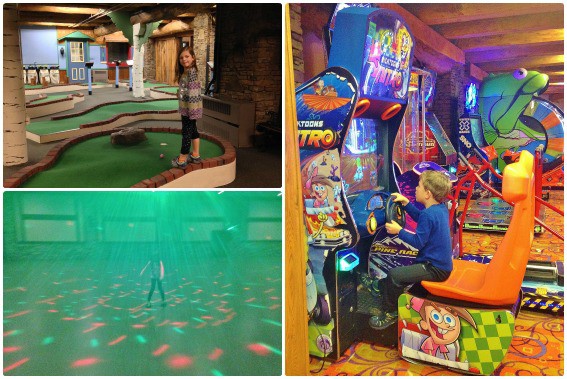 Photo by: Melissa Moore
With snow blowing and temperatures dropping into the single digits, there was no way that I was going to spend the entire weekend outdoors with a 5- and 6-year-old on this Pennsylvania vacation. In fact, we stayed indoors for almost 24 hours after our arrival. Most activities at the lodge come with a nominal cost, but the ability to go mini-golfing or roller-skating with my kids while we were snowed-in was really priceless. It made for one of the best weekend family getaways in PA.
The Pool at Seven Springs Resort
There is no extra charge for the pool for guests staying on property at Seven Springs. It opens earlier to families than most of the other activities, so it was our first stop on the day of the snowstorm. Soon after our arrival, other families with young children too small to ski in the conditions outdoors arrived at the large indoor pool. The kids made friends instantly as children do; later, as the kids became bored, the friendly lifeguards threw pennies for the kids and inspired them to play pool games. As we saw the same lifeguard again and again over the weekend, he continued to recognize the kids and say hi. Despite being snowed-in and away from their families, each staff member we encountered was friendly and helpful. What a great weekend family getaway in PA!
Mini-Golf, Arcade and Roller Skating at Seven Springs Resort
In four days at the lodge, we played mini-golf, visited the arcade, and went roller-skating. Amazingly, we did not run out of options; my kids were disappointed that we had to leave before we could try out the cute little bowling alley. All of these activities were available at an additional fee; as a result, none of them were very crowded. Roller-skating was a highlight for my kids; I started them out on roller skates that looked like they came straight out of my childhood roller rink memories of the 1980s. However, when other kids arrived and put on roller blades, my young children quickly requested to trade in their skates for blades; of course, the friendly staff obliged even helping them untie their skates.
A full day of ski school followed up by a couple hours of roller skating; those kids were asleep the second their heads hit the pillow. Just what this mommy needed after three days solo with two young children on a Pennsylvania vacation!
Breakfast Buffet and Dinner Slope Side on a Pennsylvania Vacation
One of my biggest challenges traveling alone with my two young children is eating relatively healthy meals. If I'm not careful, the kids will consume sugary cereal for breakfast and macaroni and cheese for every other meal. While my children's diet at Seven Springs Resort did not completely comply with current nutritional guidelines, they did eat vegetables or fruit at almost every meal. Yes, they may have eaten chicken strips every night for dinner, but they were served with carrots, which were easy to take back to the room if they were not all eaten by the end of the meal.
While my son characteristically dipped his bacon in whip cream, as he has had the tendency to do whenever both are served ever since he was a toddler, I was able to require him to eat a few servings of pineapple, strawberries, blueberries, or raspberries from the breakfast buffet before he indulged. The breakfast buffet at the Slopeside Restaurant looking out at the slopes and the sunrise may have been the only dining option available, but it was well worth it serving a complete array of savory and sweet options. Generally, everything that we ordered off a menu at Seven Springs Resort was of good quality; it was often priced like it came from a Disney Resort rather than a restaurant in rural Western Pennsylvania, but it was filling and tasty.
The Main Lodge Hotel and Lodging Options at Seven Springs Resort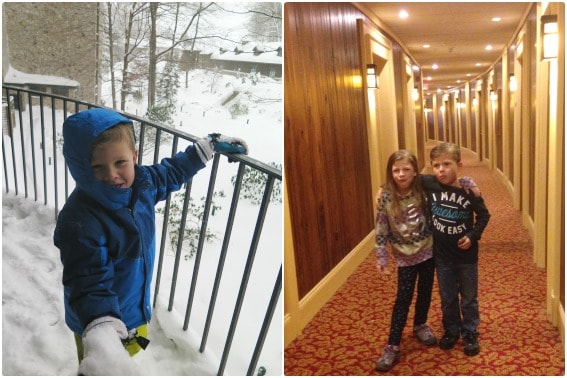 Photo by: Melissa Moore
My kids and I stayed in a Queen Family room in the Main Lodge Hotel during our four-night stay at Seven Springs; the room had two queen beds in separate "rooms" separated by a bathroom area in between. This is likely the best choice for a family with young children staying in suite. The hotel is definitely the center of the action at the resort; we could walk to several dining and entertainment options in less than ten minutes without ever going outside into the snowstorm. The location of our room was especially convenient on mornings when the kids needed to be at ski school by 8:30AM; we could leave our room at 7:30AM, eat breakfast at the buffet, and walk out to the bottom of the slopes where the ski school is located with time to spare.
There are other lodging options including ski-in, ski-out condos at the top of the mountain. For families that have their own gear and want to save money on food, the condos would likely be a good choice for a winter Pennsylvania vacation. There is an efficient shuttle system that connects the Main Lodge with the condos, cabins, and cottages around the entire Seven Springs property.
Read reviews of Seven Springs Mountain Resort from other parents who have been there.
Snowstorm! On a Pennsylvania Vacation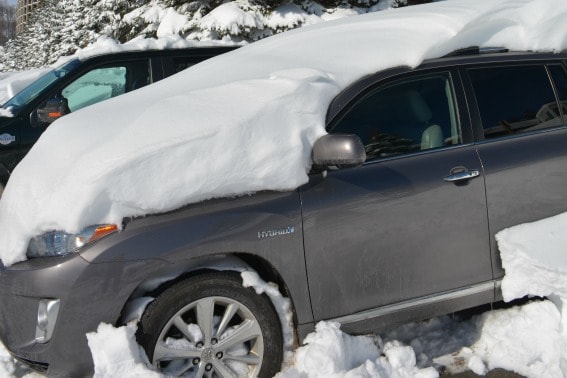 Photo by: Melissa Moore
My experience driving in Buffalo's legendary lake-effect snow certainly served me well on our drive up to Seven Springs Resort in the wake of a blizzard; however, if I had been smart enough to leave home about two hours earlier, I would have had to drive through very little snow at all. Unfortunately, Google Maps did not serve me well in navigating my way from Somerset up to Seven Springs Resort. Based on my rural snowstorm driving experience, I knew it was best to get myself turned around and headed back towards Somerset in my AWD Toyota Highlander when I noted that there were no other vehicles headed the same direction that I was going. A few pieces of advice: go early, know where you're going, and safely turn around and go back towards town if you're alone on the road.
Also be prepared when you arrive at the resort that there might be some food and staff shortages at the resort during a major snowstorm. The worst we experienced was that there was no 2% milk for my son to drink at breakfast one morning. The staff shortages mainly caused delays in being seated and served in the restaurants, and we had the same waitress for several meals in a row because she had stayed at the resort rather than going home. Honestly, the Seven Springs Lodge was the most convenient and welcoming place that we could have chosen to ride out such a large blizzard on a Pennsylvania vacation. We were able to eat our meals, sleep in our room, go swimming, and so much more without ever going outdoors.
Know Before You Go on a Winter Pennsylvania Vacation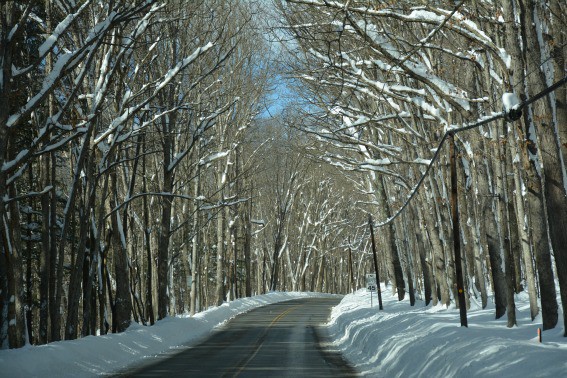 Photo by: Melissa Moore
Tiny Tot's Ski School is offered in half day (8:15-12:15) and full day (8:15- 2:15) options, and must be reserved in advance. Children are required to bring goggles and a neck warmer. Reservations are recommended for adult Snowsports School. But, it was my experience that there were plenty of snow pros (instructors) available, and the lesson start times were flexible.
In inclement weather, call the Seven Springs Tubing Hill for conditions. I found them very helpful in accurately describing the conditions at the hill.
While there are lots of offerings available up at the sporting clays including Snowshoeing and Snowmobiling, I found them prone to closure during the week. If there is an activity that you want to do, try to fit it in on the weekend or call ahead. If you have your own snowshoes, look for trails coming off the road up by the condos.
The Indoor Pool is well staffed with a lifeguard. There are bathing suits for sale as well as other necessary items. Bumpers, kid size shoes, and bowling balls are available at the Bowling Lanes.
The two main restaurants in the Lodge are Timbers and Slopeside Restaurants. The kids menu is virtually the same, if not exactly the same, at both restaurants. Due to the snowstorm during our visit, various menus were served at these restaurants. Ask the hostess to see a menu, if you have any questions.
The food at the Cafeteria at the bottom of the slopes might not look terribly appealing, but I had a pretty tasty chicken wrap with hot sauce there.
Willie's Ski and Snowboard Shop just upstairs from the Snowsports School has outerwear and other snow sports supplies available for purchase. Both my kids needed an extra pair of gloves and we found some at Willie's.
Simply put, if everyone in your family are experienced skiers, you'll likely be best served staying in a condo at the top of the slopes. If you will be utilizing the Snowsports School, child care, or are looking for other indoor activities such as the pool, mini-golf, bowling, etc., you'll likely be happiest staying in the hotel at the bottom of the hill. There are shuttles available.
Lodging is likely to fill to capacity on the weekend but not mid-week. We had excellent snow conditions and regional school closures, but were easily able to add a Monday night to our stay.