Even among Southern California locals, there is confusion between Ventura Harbor in Ventura and Channel Islands Harbor in Oxnard. Both are great destinations and with a little bit of information, are quite easy to find and explore. First, it's important to get oriented. If you are driving north from Los Angeles, you will be on the 101 Freeway when you pass by the Camarillo outlet malls before skirting the edges of Oxnard.  The City of Ventura sits a few minutes further up the coast placing it about half an hour south of Santa Barbara. The Channel Islands are a group of islands which make up a National Park. Anacapa Island and Santa Cruz Island sit directly offshore from Ventura and Oxnard.
Click this map to get yourself oriented.
Here's a sample itinerary for you and your family with a suggestion to start at Channel Islands Harbor and head toward Ventura Harbor before jumping on the freeway for the trip home.
Seabridge Marina (Channel Islands Harbor)
When you're on Victoria, you'll come across a new area of Channel Islands Harbor right after Wooley Road. It's called Seabridge and it's a combination of restaurants, retail, condos, and single-family homes on the water. It's a perfect spot to stretch your legs. Parents can grab a Coffee Bean and Tea Leaf goody within view of the whimsical pirate ship fountain. Kids will be thrilled to stretch their legs by performing a little skit in the outdoor amphitheater or walking a loop to the two small playgrounds nearby. The views of the Topa Topa mountains and the sea breeze is unbeatable.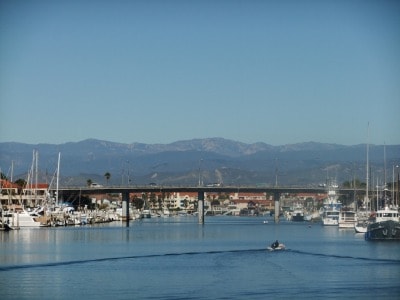 Channel Islands Harbor
Hungry for breakfast? Continue on Victoria Avenue towards the main harbor and make a right onto Channel Islands Boulevard. Turn left after the bridge into the harbor entrance. Eat a hearty meal at Mrs. Olson's Coffee Hut for breakfast. It's a local hangout with YUMMY food (117 Los Altos St, Oxnard). We usually order off the Daily Specials Board. Visit on a Sunday and explore the Farmer's Market at the harbor. Read more about Channel Islands Harbor.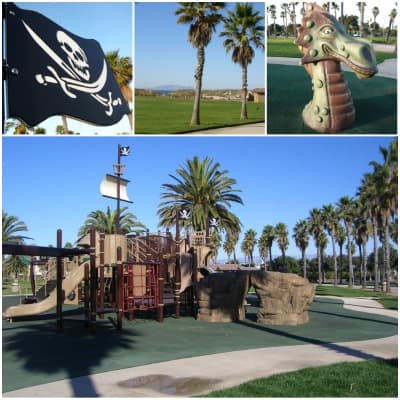 Oxnard Beach Park for Pretend Pirate Ship Play
Oxnard Beach Park used to be just a picnic park until they added a playground. It's a wonderland for the imagination. Kids can play pirate with walkways, cannons, spinning apparatus, a sea monster and a sea turtle.  There are also swings for babies and big kids.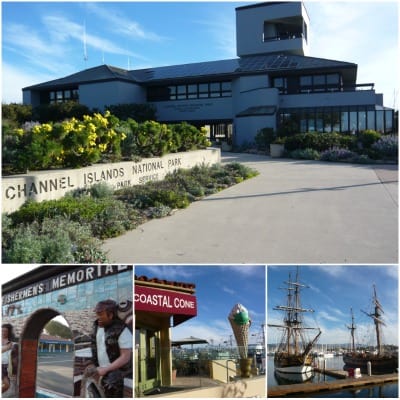 Ventura Harbor Village
Trekaroo member Gretchen reviewed Ventura Harbor saying: "We ALWAYS eat at Andria's. It's the very best fish & chips, chowder, and calamari you will find anywhere."  And I 100% agree!  Their chowder comes in a bowl or a buoy (sourdough loaf).  Just be careful eating on the patio, because the birds can get aggressive and go fishing from your plate.  This is where the name game gets tricky again. The Channel Islands National Park Visitor Center is in Ventura Harbor.  It's walkable from Andria's Restaurant. Just follow the sidewalk past the yacht club to the gorgeous grey building fronted with a native plant garden. You'll learn about the distinct habitats on each of the islands. They run an overview video and have a tidepool tank which can be kid favorites. I like to walk upstairs to the viewing deck.
Finish your trip back in Harbor Village at Coastal Cone — another local favorite for ice cream.
Read more in Michele's fun list detailing harbor hopping in Ventura and Oxnard.
Directions:
Taking the Victoria Avenue exit will lead you directly to both harbors.  For Channel Islands Harbor: Stay on Victoria and follow the signs to Channel Islands Harbor. For Ventura Harbor: Take a right from Victoria Avenue onto Los Olivos and it will lead you directly into the Ventura Harbor Village.   Travel between harbors accessible from the same main road: Harbor Boulevard which turns into Channel Islands Boulevard.