Last Updated on
Trekaroo generates revenue from purchases made through links to our partner brands.
The minute we started walking down Main Street at Disneyland during Spring Break, I thought I was going to freak out. We were a large group of three families with twelve kids between us all. The kids varied in age from one to twelve, and I thought the day was going to be a nightmare of one lost kid (or parent) after another. After getting honked at several times by the various vehicles on Main Street, getting stroller wheels stuck in the train tracks lining the street, and having our group of 18 separated, we regrouped near the entrance to Tomorrowland. We had some plans to help make the day go smoothly, but we were just not expecting SO many people. We decided to get FASTPASSES for Star Tours and jump in line for Autopia. We were pleasantly surprised to get on the ride after 15 minutes and found that the rest of the day was full of fun, happy kids, and reasonable lines, despite the swarms of people. Even on a day as busy as the one we experienced, most attractions had a maximum wait time of 15-30 minutes because they were fully staffed with all the cars/trains/vehicles in operation. We ended up having a great time, and we learned some great things along the way that can help the next large family or group keep their sanity and avoid getting lost in the crowd of Main Street.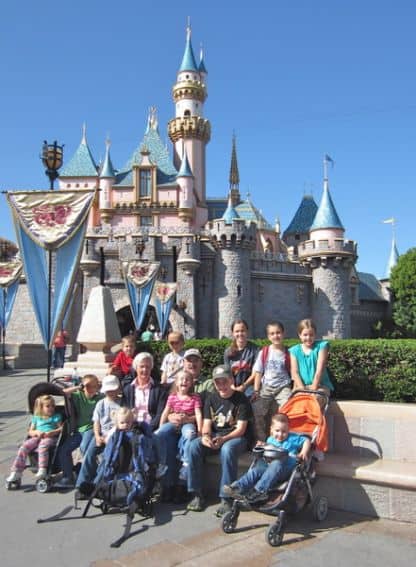 Tips for successfully avoiding crowded Disneyland Resort streets:
Take advantage of transportation! Right after entering Disneyland, hop on the Railroad (after folding your stroller) and ride the rails.
Avoid the crowds and train tracks of Main Street by riding one of four vehicles. My kids love riding on the top story of the double-decker Omnibus even when we have to wait for ten minutes. (Disney California Adventure will be opening its new Buena Vista Street this week, with the Red Car Trolley to take visitors down the street and into Hollywood Pictures Backlot.)
Park your stroller in one area and visit three or four attractions before returning to move it.
If you have no interest in seeing a parade (or you have seen it already) stay away from the parade route in the time before, during, or after a parade. The streets can be especially crowded during these times. Check your program for parade times and use that time to ride a popular attraction.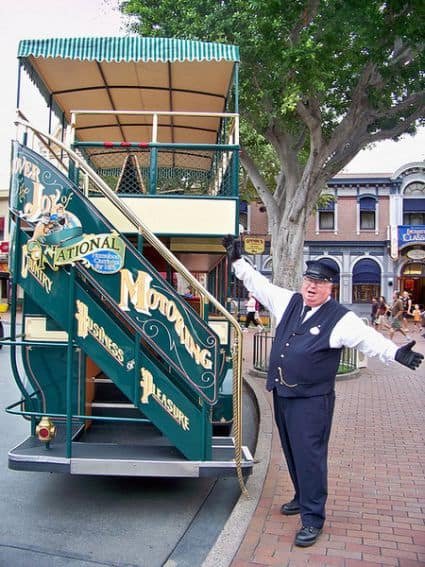 Photo via Flickr/Loren Javier
Tips for keeping track of your kids and for keeping them safe on crowded days:
Use the buddy system. It's a classic rule, but it works. We paired up the littlest kids with an adult and then all the older kids paired up with a buddy.
Hold hands. At times throughout the day, it was so crowded that we would be physically separated from our buddies if we didn't hang on to each other.
Make a "What To Do If You Are Lost" plan ahead of time and clearly inform all kids and parents. Ours was similar to the "Hug A Tree" plan to keep kids in one spot. We wanted them to stay in one place because we knew that we could retrace our steps to find them. If kids are older, establish a specific place to meet if they are separated from the group. Be particular about the place, such as "the Pinocchio statue in the center hub of Main Street near the statue of Walt and Mickey." Visit that meeting place to point it out at the beginning of your time in the park.
Cast Members are well trained for what to do with a lost child or parent. Introduce your kids early to a Cast Member and show them their name tag. Kids can trust Cast Members at Disneyland, as they are well trained to help reunite kids with parents and can take them to the Lost Children Center off of Main Street near the Baby Care Center.
Carry a charged cell phone at all times and place that cell phone number somewhere on your children. We wrote our numbers on our kids arms with a sharpie marker, but other places for phone numbers can be a necklace or bracelet with a tag, a business card tucked into a pocket, or a sticker placed on the inside of a shirt or pocket. Tell your kids to ask a mom with a stroller or a Cast Member to call their mom to let them know where they are.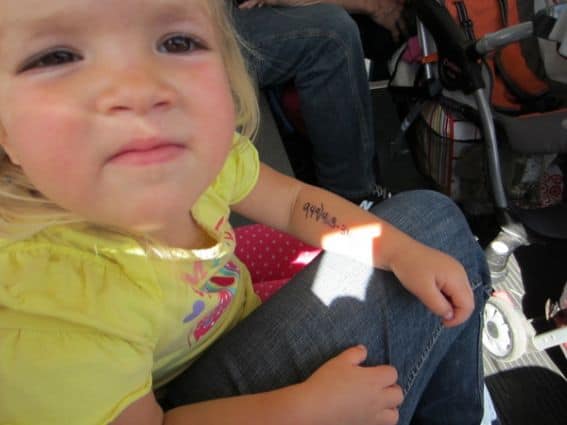 Tips for making the wait time shorter, or at least feel shorter:
Use the FASTPASS system. I can't emphasize this enough! I remember being a teenager and waiting for every "E-ticket" ride for at least an hour. Now with the FASTPASS system, I waited for all my favorite rides about 15-20 minutes. Send one member of the party with everyone's entry ticket that want FASTPASS for a certain attraction, then ride some other rides and return after the time stated on your ticket. We found that at Disneyland and Disney California Adventure, you can return after your FASTPASS window to enter the line. Don't panic if you aren't back before that 1-hour window! Be sure to ask Cast Members if you have any questions about how to use FASTPASS. They are friendly and helpful!
Rides that Utilize FastPass at Disney California Adventure
Rides that Utilize FastPass at Disneyland
Use the Rider Switch plan. For rides that are very fun for older kids and adults but have height restrictions, such as Indiana Jones or Space Mountain, be sure to ask the Cast Member at the start of the line for a Rider Switch pass. It means that two parents can ride the attraction and only wait in line once! The only catch is that some attractions send Ride Switchers in through the FASTPASS line, which can mean a 10-15 minute wait. My sister-in-law and I found ourselves in that situation after our husbands rode Star Tours and then gave us the Rider Switch passes. A Cast Member told us that each attraction has its own method, depending on how the ride is loaded.
Rides that Offer Rider Swap at Disneyland
Rides that Offer Rider Swap at Disney California Adventure
Download an app that lists wait times. There are apps from Disney and other companies that give an estimate as to how long lines are for specific rides. Trekaroo has a great list of iPhone and Android Mobile Apps to help you pick the best ones.
Have a list of some fun activities to do as you wait in line. We played "20 Questions", "I Spy", "Rock-Paper-Scissors", and more. I brought along a great book called "Lots to Do In Line" by Meredith Lyn Pierce. It is full of trivia based on all the things to see while in line at specific attractions in Disneyland and Disney California Adventure. We especially enjoyed hunting for items listed in the scavenger hunt section for each ride, such as looking for a harmonica, three mops, a bell, a stool, and a fan while in line for Twilight Zone Tower of Terror. There is also a "Lots to do in Line" app which is great for families with iPhones. The app is very similar to the book but is one less thing to carry while in the park.
Carry food with you! It can distract people of all ages from the monotony of waiting in the longer lines. Use the food judiciously or you may get mobbed by the ravenously hungry in your group. You can even use the food as a prize for winning the games you play while in line!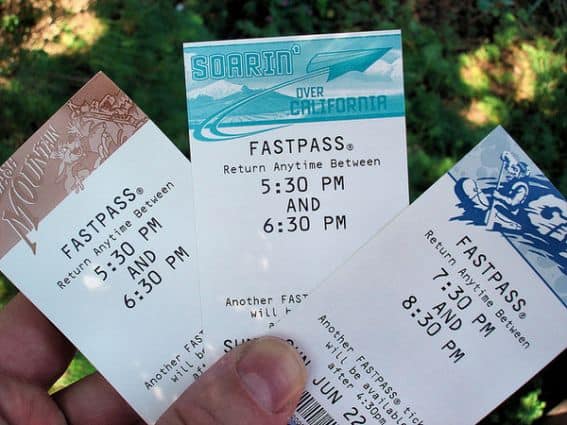 Photo via Flickr/Thom Watson
Tips for finding rest, eating well, and having enough energy to make it through the day:
As mentioned above, bring food with you! My mother-in-law felt quite anxious about my huge bag of sandwiches, trail mix, juice boxes, and snacks tucked into the bottom of my stroller. She had read on the Disneyland website that you can't bring food into the park. It is true that they "request" that you do not bring food in. They even provide a picnic area outside the entrance as a place to eat the food you bring. However, we noticed a lot of people with their own food, and the security guards that check bags were not surprised by it at all. We passed around trail mix, dried fruit, and water bottles while we waited in line. The snacks refueled us all in a time-effective way.
Do not plan on returning to your car in the parking lot for rest or for lunch. The transition time from the park, onto the shuttle, returning on the shuttle, and back into the park can take at least an hour and requires a significant amount of energy.
Find a quiet place inside the park to rest. Use the tables of an outdoor eatery to eat lunch that you have packed, give little ones a short nap, or simply close your eyes and put up your feet for a few minutes. The quiet and rest will go a long way to making a great day.
Some quiet places in Disneyland:
Some quiet places in Disney California Adventure:
Take a tour of the sourdough bread factory by Boudin Bakery, enjoy a sample, and rest at the tables outside the Pacific Wharf Café.
The Hollywood Backlot has quite a bit of open space when there is not a show.
Underneath the Silly Symphony Swings is a platform that extends around in a circle next to the Paradise Bay waters. Although you may listen to the William Tell Overture a dozen times as it plays above you repeatedly, there will be hardly any people around and quite a few benches to rest on.
With the new Cars Land opening June 15, 2012, there are bound to be additional quiet areas opening up in Disney California Adventure.
Check out What is New For Disney in 2012!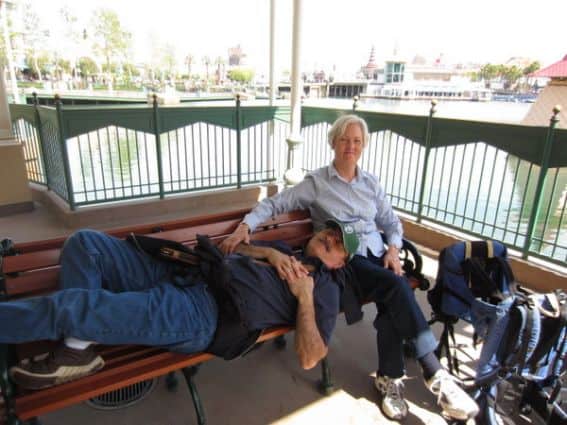 Bonus tip for ending the day right (and keeping money in your wallet):
Bring a package of mini glow sticks that can be turned into bracelets, necklaces, headbands, glasses, and more. They can usually be purchased at Dollar Stores, Dollar Spots, or craft stores for about 10/$1. They are a MUCH cheaper alternative to the light up toys offered at Disneyland each night. They also provide an added benefit of helping parents see their kids in the dark!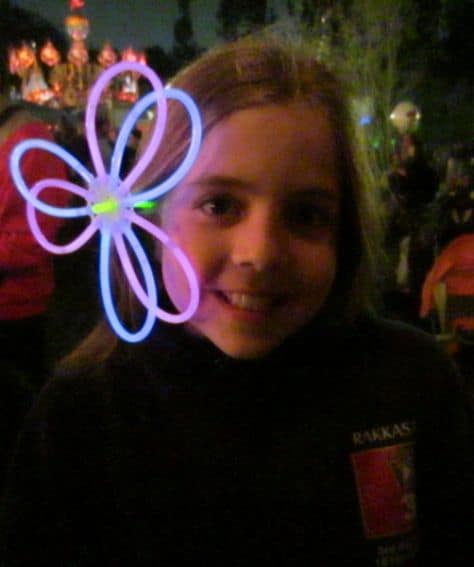 No matter how crowded Disneyland can be, there is great fun to be had. Here are some additional resources to help make the day fun!
Beyond the Lines – Finding Disney Theme Park Fun On Even The Most Crowded Days
Trekaroo's Destination Guide for Disneyland and Disney California Adventure
---
Travel with kids to: CA |CO | DC| FL | HI | IL |MA | NC | NJ | NY | OR| PA| TN | TX | UT | VA | WA
Featured photo by: Michelle McCoy