One of my favorite things about the Hawaiian Islands is the water. It's so clear blue, and best of all- you don't need a wetsuit to swim during the winter! Whenever I visit Hawaii, I always make time to snorkel. There is just something so tranquil and beautiful about entering an underwater world full of vibrant fish, docile sea turtles, and delicate coral. Of course, some beaches are better for underwater exploration than others. Here are seven of Trekaroo's favorite beaches for family-friendly snorkeling:
1. Molokini Crater, Maui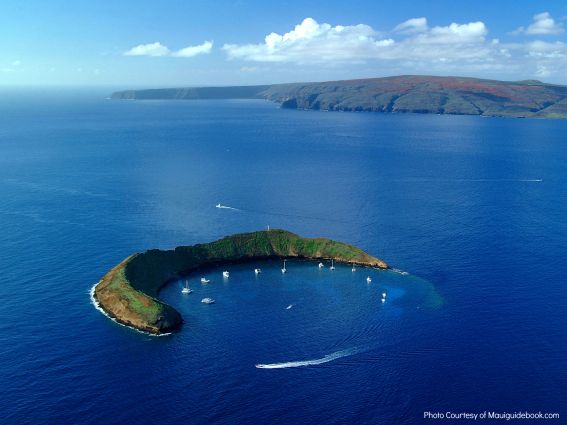 Molokini Crater, Maui is located 3 miles offshore and is world renowned for its clear waters full of marine life. Everything from parrot fish to Humuhumunukunukuapuaa (Hawaii's state fish) can be found swimming around this ancient sunken volcano. The only way to reach this spot is by boat. Lucky for you, there are plenty of outfitters ready and willing to give you a ride (for a fee). Be prepared to share the water with plenty of other snorkelers and scuba divers. This beautiful spot is definitely no secret.
2. Kahaluu Beach Park, Hawaii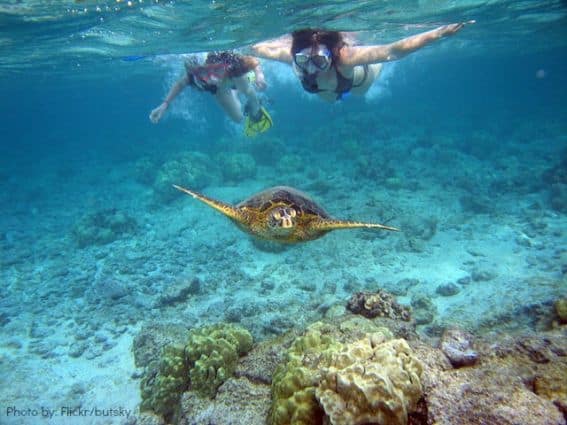 Kahaluu, a shallow cove on the west side of the Big Island, is full of fish and is a popular sea turtle hangout. Since most of the cove is only neck high and the waters are usually calm, its also a great place for first time snorkelers to learn the ropes. Here you can swim amongst eels, porcupine fish, tang, and many other brightly colored fish. During low tide, there are also great lava rock tide pools for the family to explore.
3. Hanauma Bay, Oahu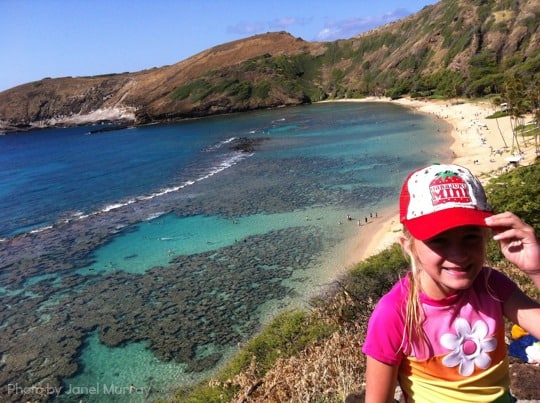 I'll be honest, this isn't my favorite beach in Oahu. I don't like to have to pay to snorkel and I certainly don't like sharing the fish with a crowd. That being said, you can't beat the proximity to Waikiki, the scenery, or the amount of fish in the bay at this popular spot. Hanauma Bay, Oahu really is a great place to learn to snorkel and get to know the fish that call the Hawaiian Islands home. Small children can play at shores edge and enjoy the small break. Older children can swim with sea turtles, glide past triggerfish, and float above the urchins.
4.Anini Beach County Park, Kauai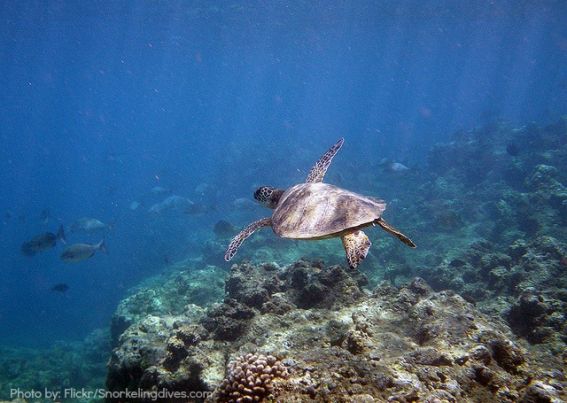 Not only is this beach Kauai's safest beach for swimming, it is also one of the best snorkeling spots on the island! The shallow waters of Anini Beach County Park are framed by emerald cliffs create an idyllic snorkeling paradise. Beginners and experts alike will enjoy exploring the tranquil, fish-filled waters. Be sure to leave some time to do some beachcombing. Rare and highly valued Niihau shells have been known to wash ashore.
5. Kapalua Bay, Maui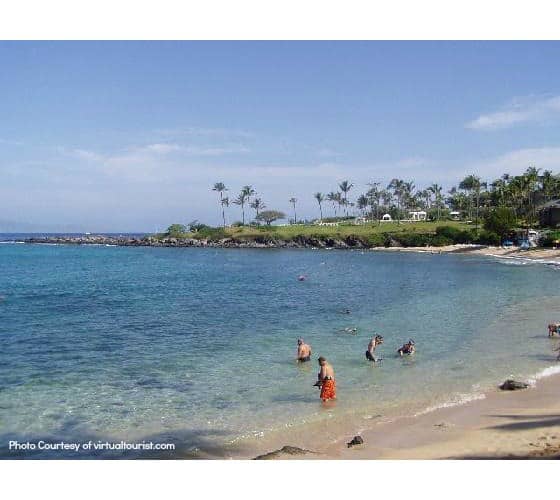 On the northwest side of Maui, just past the resort sprawl of Kaanapali Beach, is a cove that is perfect for beginning snorkelers. The beach itself does have gorgeous white sand and is perfect for sunbathing, but once you head out towards the rocky outcrops on the north side of the cove, you enter a world filled with tropical fish, crustaceans, and invertebrates. The cove shelters the water from the wind, keeping the water calm; so pop on those flippers and hop on in!
6. Poipu Beach, Kauai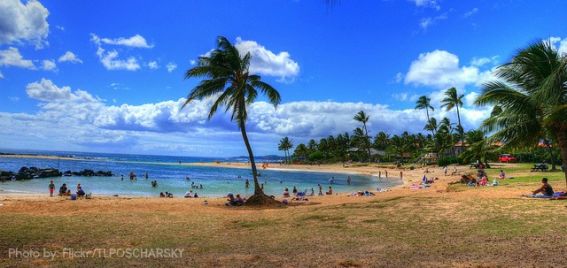 The most popular beach on Kauai's south shore, Poipu Beach is ideal for families. You'll find great places to lay out a towel, have a picnic, and enjoy the water. There is a small breakwater area where children can play and snorkel without the threat of large waves or strong currents. This beach always ends up on top 10 lists and its no wonder why, this stretch of sand is truly paradise.
7. Shark's Cove, Oahu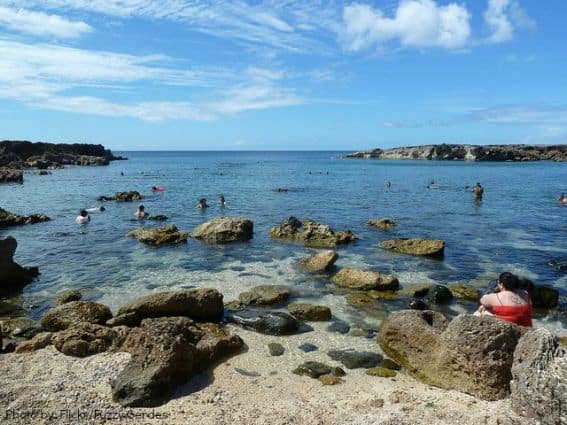 This snorkeling spot with a misleadingly sinister name of Shark's Cove, is my favorite place to snorkel on Oahu. There are some extremely shallow areas in the Pupukea tide pool portion of the cove that are great for kids. Two things to keep in mind before you visit: the entrance into the water is rocky so caution should be used, especially with young children, and large swells can occur on the North Shore during the winter so this spot is best suited for summer exploration.
Lead Image by: flickr/goodncrazy