With a limited season and tour size, it is best to start planning a dog sledding adventure before the first snowflake hits the ground.
Photo by: Bigstock.com/MaszaS
Here are Six tips when planning your trip:
Limit the tour to 2 hours 
Make sure to take the age of your participants into account for the tour. The children on our trip ranged in age from three to eight years and a two-hour tour was plenty long enough for them. Children younger than two could become bored easier, especially if they don't fall asleep. Older children may like the challenge of a longer adventure, but be forewarned, bathrooms, if any, will be of the pit variety. This is definitely not a good time to power up on a thermos of coffee before the trip. Also, the longer your ride, the higher the chance of becoming cold and potentially ruining an otherwise enjoyable trip.
Don't stay too far
A two-hour tour can easily turn into a four-hour tour when you add an additional hour each way for travel time. From our hotel on Tunnel Mountain in Banff, it took approximately 45 minutes to get to our dog sledding location at the Spray Lakes. The roads are often just gravel and quite twisty. Although we have two children that tend to get car sick, the ride was slow and short enough that we did not have any disasters before the tour even began. Pack snacks to eat in the car on the way back to town.
Looking for a place to try out dog sledding? We have the best dog sledding spots for families all queued up for you.
Dress for Warmth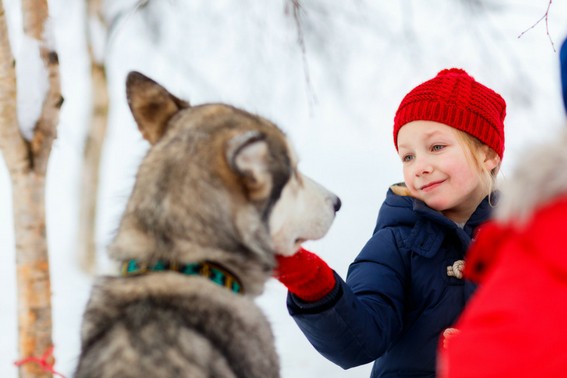 Photo by: Bigstock/BlueOrange Studio
It will be extremely important that you dress for warmth. The key is to dress in layers and avoid cotton as the base layer. Cotton traps moisture against the skin and can actually make you feel colder. Silk or polyester underwear is an excellent option. We also purchased specialty ski socks and extremely good quality mittens for our entire family. We ordered through Mountain Equipment Co-op (a Canadian favorite), although other outdoor adventure stores are also an option. A hat or toque was not enough to keep out the wind created by the speed of the dog sled. We found our heads were warmest when wearing a toque and then covering with the hood of a ski jacket.
Beware of the sun
If you ride on a sunny day, the glare off the snow can be quite harsh on the eyes and skin. All our kids wore their ski goggles while the adults sported sunglasses to cut the snow glare. Everyone wore sunscreen with a high SPF. Sunny day or not, sunscreen for any exposed skin is necessary at these altitudes.
Don't forget the cameras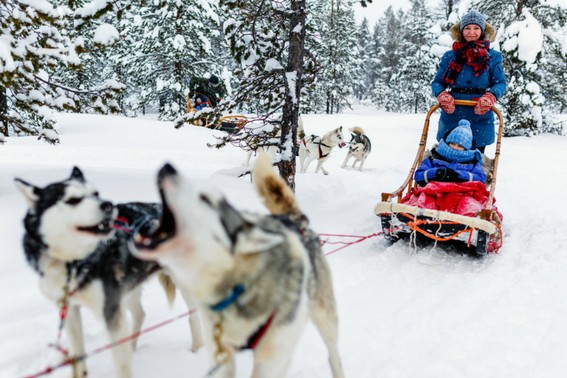 Photo by: Bigstock/BlueOrange Studio
As a family, we try to preserve our adventures with both pictures and video. It helps the youngest ones remember our journeys and give the kids pictures to take back to school for show and tell or to include in their travel diaries. During our trip there were several short stops in order to clean up after the dogs, we were on a reservoir after all. It allowed a brief moment for my inner-scrapbooker to grab a couple of shots. I was also able to hold onto the sleigh and capture some video footage but it was easier to video tape while riding in the sled rather than driving. I could have spent all my time behind a lens, but the amazing mountain beauty insisted I just enjoy the moment.
Check out how to take the best family vacation photos ever.
Book early
There are several companies that offered tours in the Canmore area. Depending on the company you choose, tours fill up fast. Mad Dog Expeditions is a smaller company, so their tours fill up many months in advance. During peak season (the winter school holidays), they may only offer one tour a day in order not to overwork their dogs. There was also a maximum of 10 people per tour.
The costs of tours will vary by company and length of trip and some companies include a meal or snack. Expect to pay a deposit of up to 50% when you book and the remainder within 48 hours of your tour.
Excited for your trip, but don't know where to stay? Check out this guide for family-friendly hotels in the Canmore/Banff area.
by: Karen Mouly
Lead Photo by: Shutterstock