Oh, the joys of potty training! Constant trips to the toilet, cleaning up accidents, sticker charts and bribes; even in the best of situations it's a chore. But now, right when Junior decides he wanted to start going like a big kid, you have a vacation planned. Do you postpone the trip? Never! Do you put a hold on potty training until you get back? You could, but then you have to start all over. Traveling while toilet training adds a few extra hurdles, but nothing you can't handle. Follow these tips and Junior will be peeing like a pro before you get home.
Schedule Potty Breaks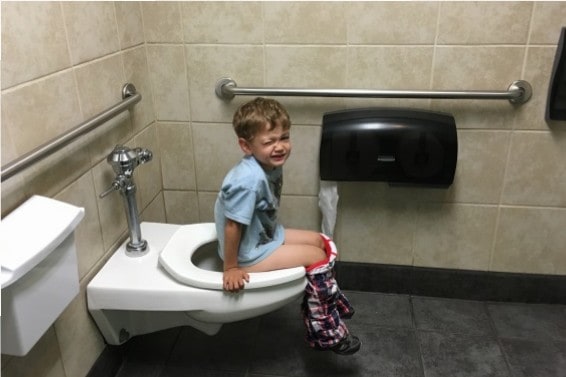 Photo by: Tiffany Vaughn
Take Junior to the bathroom when you are ready for him to go instead of waiting for him to tell you. Have him try, even if he says he doesn't have to go. Most of the time, he'll be able to squeeze something out. Anytime you are about to get in the car, take a bathroom break. Anytime you are about to stand in line, take a bathroom break. Anytime you conveniently walk past a bathroom…you get the idea. If you go on your schedule, you are less likely to have to run to find a restroom before an accident happens.
Continue your Reward System
If you are using a sticker chart or other reward system, DON'T FORGET TO TAKE IT ON THE ROAD. Whatever motivation is working at home is still going to work while traveling.
Take the Fear out of Public Restrooms
Public restrooms can be intimidating, and sometimes gross. Many kids are scared of the loud flush sound. Make sure to cover the autoflush sensor, either with a hand, a wipe, or even a sticky note. If you are using the bathroom in an airplane, let the little one out before flushing the toilet. Public toilets are big, so either bring along a child-sized potty seat, hold onto your child, or even sit with them on the toilet. And since one never knows how clean the next rest stop will be, make sure to keep wipes and a hand sanitizer on hand.
It's OK to use Pull-Ups
I know Pull-Ups are basically diapers and sometimes parents think their child will regress if you use them. In my family, we call them Travel Undies. They are special underwear we wear in the car in case we can't make it to the toilet in time. Most of the time, my potty trainers have refused to go in them and held it until the next rest stop anyway. It's just extra security that give a little piece of mind.
Bring your Gear Along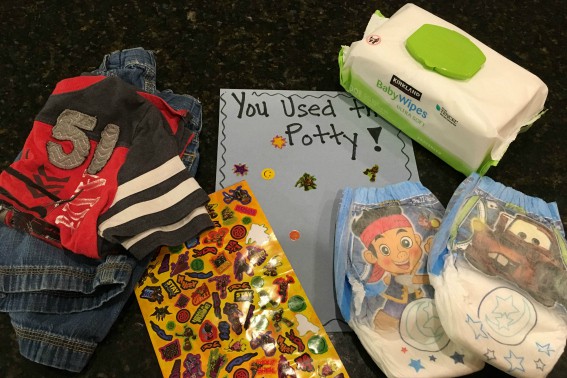 Photo by: Tiffany Vaughn
If you are using a training toilet at home, throw it in the car to use on the road and at your final destination. This includes training toilets, potty seats, special soap, sticker charts, pull-ups, wipes, etc. Keep to your at-home potty training routine as much as possible.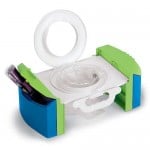 Check out one of our favorite road-tested to-go potties on Amazon: Travel Potty by Cool Gear. (affiliate link)
Prep for Accidents
Even with all the planned stops, there will still be accidents. Just make sure you have a plastic bag and a change of clothes on hand at all times. If you are prepared for accidents you can do a quick clean up, laugh it off, and enjoy your vacation.
"Note: This article contains affiliate amazon links."
Lead Photo by: Bigstock.com/d13