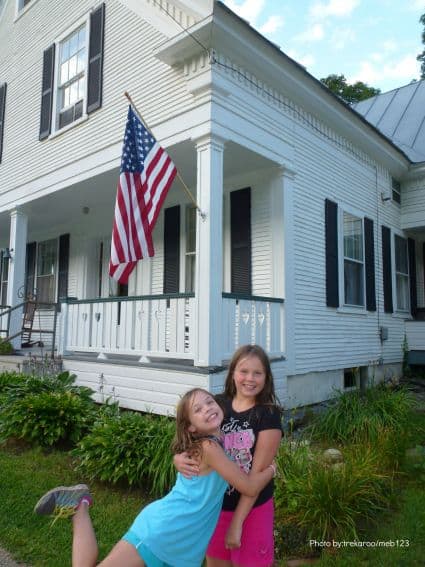 When I first proposed the idea of a farm stay vacation to my adventurous bunch I was greeted with mixed reactions. Of course my animal lover daughter was intrigued; the rest of the group was a bit leery of such an idea.
Will I be required to WORK? -son age 11

Will there be a pool? -daughter age 8

What will we do for four days? -antsy husband
I was convinced it would be a good experience, though I wasn't completely sure why. I just knew that some of my best childhood memories were spent on acres of land in western Pennsylvania and I thought this might mimic those days. It certainly did and so much more.
We stayed at the Liberty Hill dairy farm in Rochester, Vermont for four days this summer. We have always loved Vermont and I often threaten to pull up our roots and move there. Our stay certainly gave me more ammunition.
Beth and Bob Kennett are the truly gracious, humble, and caring inn/farm operators at Liberty Hill. They have carved out a vocation for themselves and share the farm, inn, their family, and their way of life with interested travelers. While this type of vacation may not be for everyone, it is my opinion that all travelers would benefit from a stay at a farm such as this, especially those with children. Here are my top five reasons to take your family on a farm stay:
A Farm Stay will change and surpass your expectations.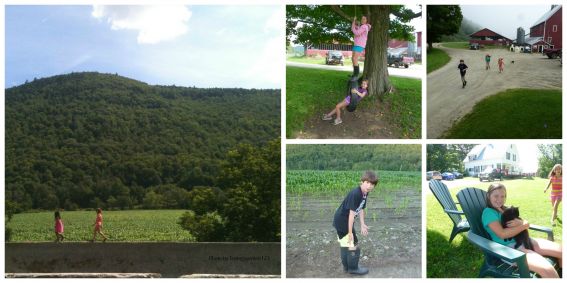 As I indicated, I was unsure why I thought a farm stay would be so important. What I found out is that a stay at Liberty Hill Farm is inspirational. We thought we would be working the farm the entire length of our stay. We thought we would be introverted guests. We thought we would be bored after a couple of days. We thought we might be too worldly. We were wrong on all accounts. Each day we woke with the sun ready to greet the sweet smells of the Vermont farmland and mountains. We could work the farm if we wanted, or we could relax and read a book or swing on the tire swing. We met wonderful people from around the country and really enjoyed speaking with and learning from them. Guests at Liberty Hill come from around the globe, including Brazil and Dubai. As Beth said, "We may not be able to travel the world due to the demands of a dairy farm, but the world comes to us!" Beth has a mission to allow people to take a true look at the life of a farming family and at the same time learn from other people.  The kids took all of this in and were unable to verbalize what they found so enjoyable at the farm. What I know is they felt freedom, usefulness, and love.
Do some hard work.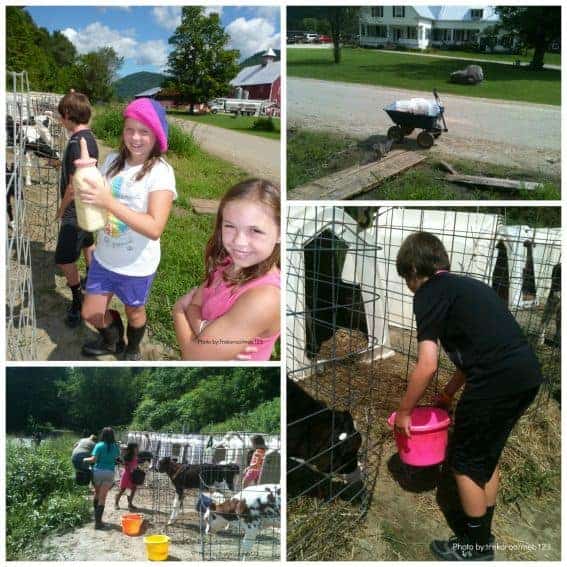 Farming is hard work; I am sure that we already knew this. However, we are a bunch of hands-on learners. We saw and felt what it is like to rise at the crack of dawn, watched Bob eat a late dinner when there was a lull in the chores, and when we went to bed at night after 10pm we still heard the tractors running as we dozed off to sleep. Beth was always up early preparing the daily meals for guests while Bob and their boys starting the daily process of feeding and milking the cows. Local teens serve as farm hands and most have grown up on the farm either working or through 4H. There are calves to be fed, cows to be milked, machine and barn maintenance to be completed, and hay for the winter to be stored. Due to wet weather conditions, the Kennetts were behind on hay storage and had only 150 of 10,000 bales stowed for the winter. They were stowing the bales well into the night. Our kids took part in some of these daily chores and actually looked forward to feeding the calves. They learned that farming is hard work, the work is never done, and that hard work delivers results.
Farm stays are educational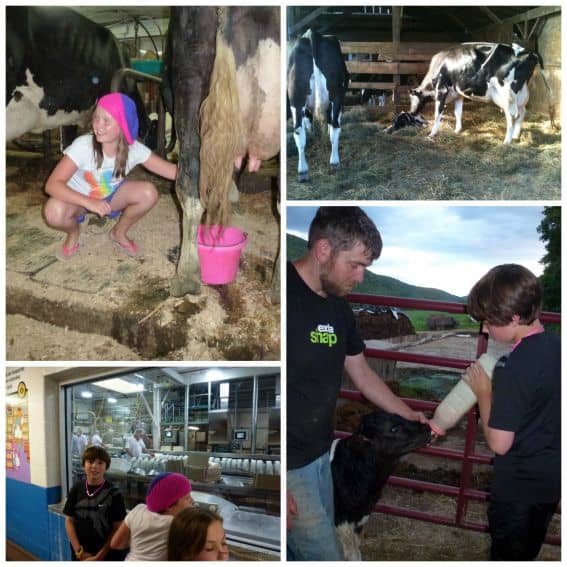 I thought our children might learn a bit from a stay on the farm and they did learn a bunch about farming, animal care, and life on a dairy farm. When we arrived we immediately heard from two other children that were staying on the farm that there was a cow ready to give birth at any time. Our kids then found a pair of muck boots supplied on the front porch and made their way around the farm to investigate. They had the opportunity to feed the calves (on average one born every 3 days) both by bottle and with grain. They learned about cow gestation, calf development and diet, milking, and of course birth. Yes, while we were there 2-year-old Paprika gave birth to her second calf. The kids were very excited to see new life enter the world and although this was a rather difficult birth due to the size of the baby, everything turned out wonderfully. The kids got to watch mom be milked after the birth, they named her baby boy Pepper, and they got to feed Pepper his first bottle. They learned about the method of getting Paprika back on the milking line and that Pepper would be sold to stud farm once he was a year old.
One of the most interesting processes they learned about was what is done with the milk once it is stored. Liberty Hill is one of 1200 Cabot Cheese Co-op farms. Each day the truck comes to take the milk from the farm to Cabot for processing. We decided to go full circle and take the kids to Cabot for a tour of the cheese factory. Suffice it to say that my youngest daughter said she cannot live without cheese and while she was there discovered that there is such a position as a cheese grader. A cheese grader tastes and grades cheese all day. She has found a new career!
Enjoy phenomenal food and hospitality.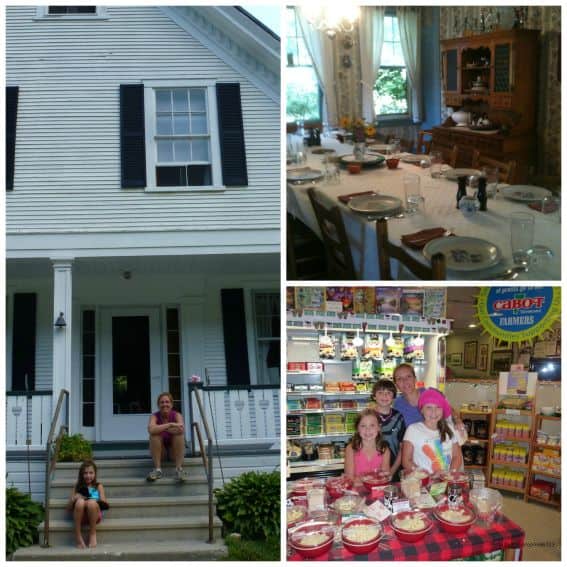 Liberty Hill Farm is a welcoming place. Beth and Bob have allowed their home to become your home while you stay with them. As they have been inviting people into their farm house for over 20 years they are experts at creating a warm environment. Within minutes you feel comfortable, like a stay at Grandma's. I am sure they would have it no other way. Their grown boys work at the farm and have families of their own who also make it to the farm creating a true family environment. There is really no distance, yet you can create it if you choose. Our kids learned so much about sharing, conversing, and a way of life different from their own. This is what family travel is all about.
Additionally Beth has created a menu sure to satisfy the most discerning of foodies and picky of childhood eaters. Breakfast and lunch are served daily. Every meal had a wide choice of homemade foods and locally harvested vegetable and fruit dishes. We were never left hungry and the kids always found something healthy they liked. Beth shared her Broccoli Salad recipe with me and my kids have asked for it several times since we left. It's become part of our menu at home. Beth NEEDS to write a cookbook!
Explore the activities outside of the farm.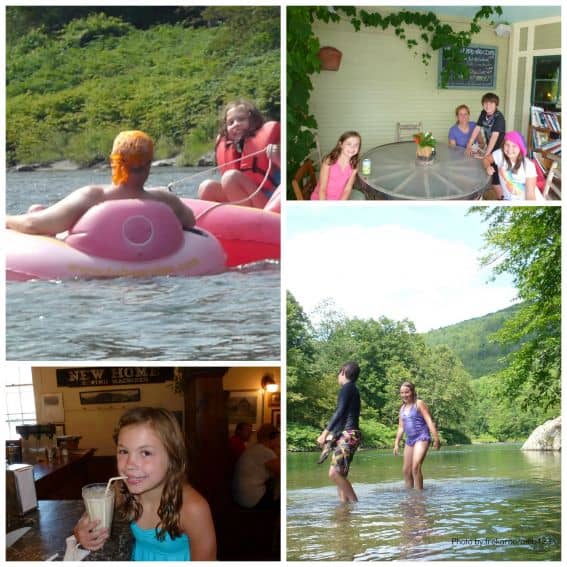 Although there were always chores to be done, we were never EXPECTED to complete any of them. Anything the kids did, they did when they wanted to and if they wanted to. There was no pressure and that added to their sense of freedom. After meals the kids felt like all they needed to do was put on their muck boots and explore.  We always felt safe with them leaving the house to roam around with their new found friends and experience the farm which is located in a river valley, on a dirt road approaching the national forest. This is a beautiful spot.
However, when the mood struck we left the farm to explore the region. We had some great quality family time discovering local village restaurants like Sandy's Books and Bakery or the Rochester Cafe for lunch, hiking, and going river tubing with Vermont Tubing Company right along the Kennett's farm land. We were relaxed, unplugged, and appreciative. It was like those summer days at Grandma's for me; for our kids it was a time to decompress, roam, and learn. We would love to return!

There are a variety of farm stay opportunities across the country. Each has its own unique options and locations. For more information, visit www.farmstayus.com/
Watch a youtube video of our great farm trip:

 Disclosure: My family and I were provided a complimentary stay at Liberty Hill Farm. I was not asked to provide any specific opinions. All opinions are my own.