Did you know that Grand Rapids, MI was the birthplace of our nation's 38th President, Gerald R. Ford?  Or that Grand Rapids was once known as "America's Furniture Capital" for its fine, residential furniture? Yeah, me neither! My family learned those little tidbits (and so much more) on our recent road trip to Grand Rapids, MI. We found so many kid-friendly activities in Grand Rapids and are already planning a trip back!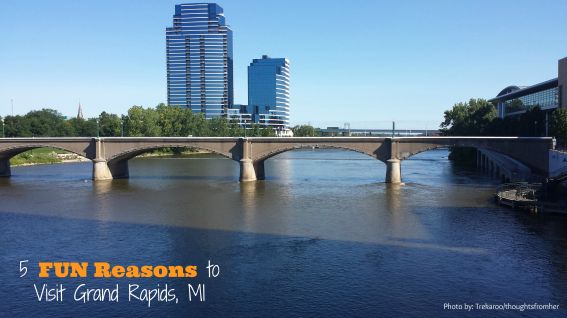 1. Kids Can Play All Day!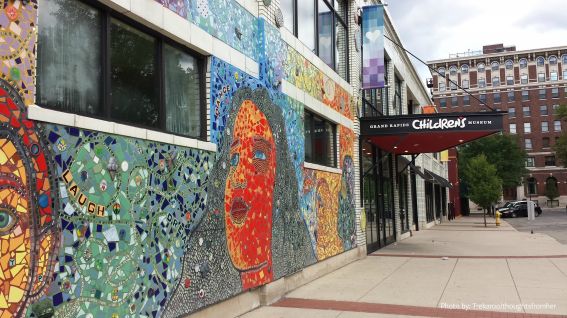 The Grand Rapids Children's Museum should be a must on any family's to-do list when visiting the area. The two-story museum has so many areas for the kids to learn through play, like a Mom & Pop Store, a Wee Bank, and a Play Day Café. There are hours of fun to be had! This interactive museum encourages hands-on play and kids will love the opportunity to explore so many exhibits on their own. Watch out for those bees though! The Grand Rapids Children's Museum also has a live bee exhibit. It's really cool to watch a bee colony in action; thankfully safe behind the glass.
2. Who Doesn't Love a Good Splash Pad?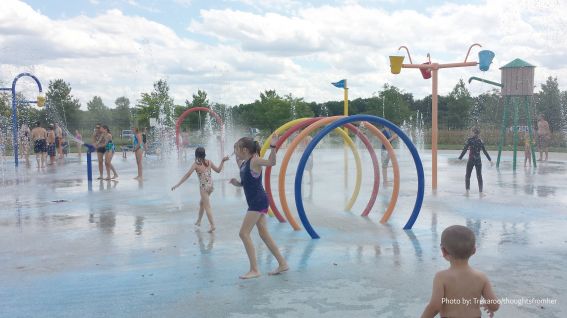 If you're visiting the area during the summer months, Grand Rapids has a number of splash pads to explore. The splash pad at Millennium Park is tons of fun. From buckets and sprinklers, to water tables and sprayers, kids will have a blast getting wet and having fun! Millennium Park is also home to a 100-acre lake where you can rent a boat and spend the day at the beach. Pack a lunch and spend a fun (and WET!) day with the family. Looking to visit in the off-season? You can also visit the Kroc Community Center or the nearby Holland Aquatic Center. Both centers have indoor pools that are open year-round.
Look for kid-friendly places to eat in Grand Rapids, MI.
3. Feeling Adventurous? Take a Ride on a Zip Line at the ZOO!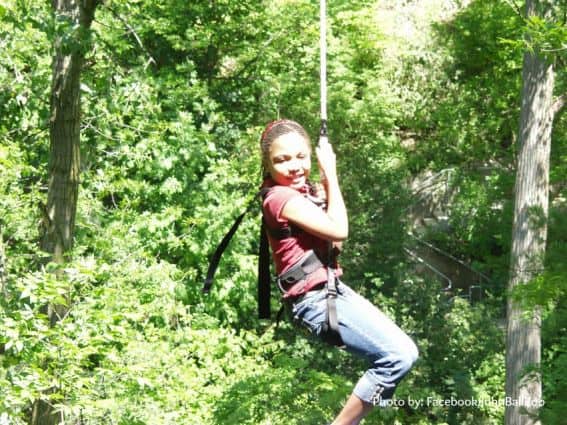 If you have older kids in the family, you'll definitely want to head over to the John Ball Zoo! This small zoo, just a short drive away from the downtown area of Grand Rapids, has a surprising number of animal exhibits – and a few "adventure" opportunities too. You can take off on a zip line, navigate a ropes course, ride a camel, and touch some stingrays and sharks in a small pool. Just outside the zoo entrance, the park area is a perfect spot to bring a picnic lunch, and kids will love the large playground.
Find kid-friendly hotels in Grand Rapids, MI.
4. Ride a Carousel with the Family!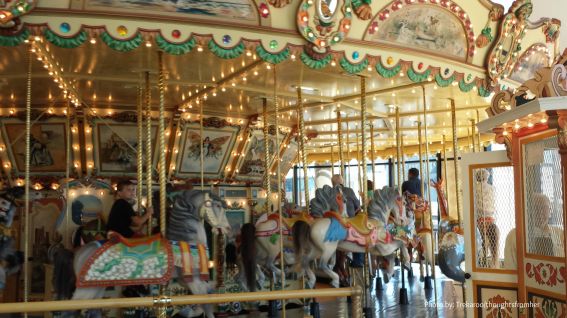 The Grand Rapids Public Museum is home to a gorgeous 1928 Spillman Carousel. The carousel runs year-round and is a favorite for kids; young and young-at-heart. But there's so much more to see at the Grand Rapids Public Museum! Small kids will love the Collecting A to Z exhibit that features an "I Spy" discovery hunt where you can look for things in the museum's collection that start with letters of the alphabet. "A", for example, is for Automobiles and "Z" is for Zoology. It's a great way for kids to engage with all the different exhibits. And if you're a fan of board games, the museum also has GIANT games to play on the first level. There's Connect 4, a huge chess set, bowling, ring toss, and other fun games for the family to play together.
5. Explore Your Senses at a Children's Garden!
What kid wouldn't want to stroll through a scenic garden, launch boats on a big water table, dig for buried fossils in the rock quarry, or venture through a Treehouse Village? The Lena Meijer Children's Garden at the Frederik Meijer Gardens and Sculpture Park allows you to do all of that, plus so much more! The Kid-Sense Garden is a child-favorite where kids will find a leaf that feels like a lamb's ear and discover a flower that looks like an eyeball! The sensory garden allows kids to use their senses while they learn about various unique plants in the garden. It's so much fun!
Discover more kid-friendly activities in Grand Rapids, MI.