Life with four kids, isn't always easy or blissful. Occasionally, it's pure chaos mixed in with some insanity (on my part). When my husband and I decided to make to move from San Luis Obispo, CA to Dallas, TX, we knew it was going to be a lot of work. Flying that distance with our kiddos wasn't really an option, but a big road trip was!
I had two visions for what a long road trip would be like: one being a lot of fun, well-planned activities and destinations with six smiling faces eager to embrace life and our love for learning. The other vision was of complete misery, four cranky kids asking every minute the phrase that makes my skin crawl, the phrase no parent can avoid, "Are we there yet?"
Determined to get as close to the first picture in my head as possible, I decided to embrace the Boy Scout motto, "Always be prepared!" Even though I strive to be, I am not always the most organized person. If I told you I was normally Ms. Organization, my husband would probably be the first person to comment on this post calling me out. However, my desire for a positive, successful trip encouraged me to plan ahead and think through what I packed and why. Fortunately, our road trip was a hit! My kids were happy and entertained the entire trip. Only once did my 7 year old ask when we were going to get there! Most of all, we enjoyed each others company, laughed a lot, and know we could do it again!
Here are 10 tips for planning a road trip with your family:
1. Organize, organize, organize.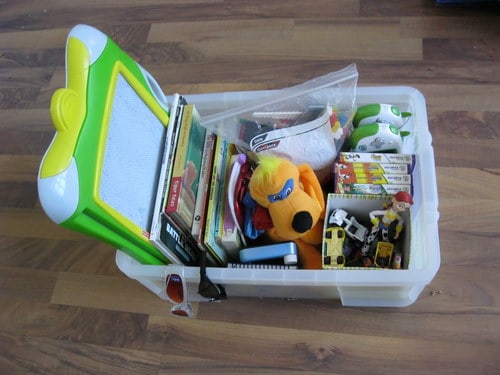 One of my pet peeves while traveling are the toys, books, uneaten food and trash that accumulate and float around the van. Determined to have as clutter-less a trip as possible, I wanted everything that entered the van to be in some sort of container or organizer. Luckily, there are some amazing backseat organizers on the market today. The biggest thing to consider before purchasing any organizer is how much space you have in your vehicle to dedicate to the container. If you can't afford one, or don't want to spend your money on an organizer or two, or in our case, five, don't worry, you can make your own! Just measure the space between the seats and find a tote or box lying around your house. You can even cut up a box you aren't using, cut dividers out of it, and tape tape them into a box or tote to your unique specifications. It might not look pretty, but will definitely do the job!
2. What toys to pack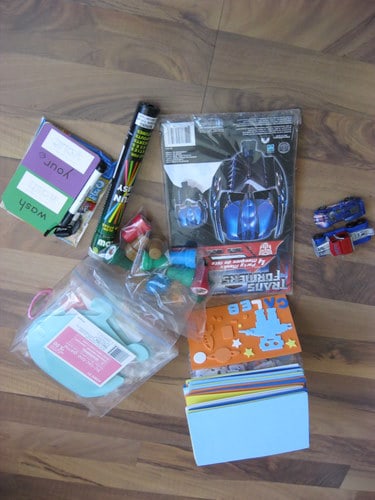 Have you ever given your kids a small bag, asked them to pack it with their own toys for the trip, and they stuff it so full that they can't play with any items inside that bag without them all spilling out? That's what happens in our house every time, so this time I decided to pick which toys and books I wanted my kiddos to have on our trip. I gathered their favorites and placed them neatly in the organizers. Here are some suggestions for items that will keep them busy and happy for hours on end.
Books
Action Figures or Army Guys, Cars, Dolls (only a few and only their favorites)
Coloring Books and Crayons (a zip lock baggie of crayons for each child)
Etch-A-Sketch or Magnadoodle
A Small Notebook and Pencil For Each Child
A Small Zip Lock Bag Of Legos For Each Child
3. Surprise, surprise!
One of my friends gave me a great idea ahead of time to pack little surprises for my kiddos that I pull out at random times (ie: when we've been driving in the desert for a few hours, and the kids are starting to get restless). When I pulled out their first surprise, they were so excited, it was like Christmas! They laughed and played with their new toys for at least an hour without stopping! The little surprises cost only a dollar each and my budget was $10 total. I shopped in the dollar section of Target and in the arts and crafts area for kits that were on sale. Here's what I bought:
Window Clings (We bought race car designs)
New Books (Hardback for my younger kids and an easy reader for my 2nd grader)
Color Wonder Markers & Coloring Books
Hot Wheels Or A New Music Toy
A Kit With Foam Sheets & Foam "Robots & Space" Stickers
4. Less is more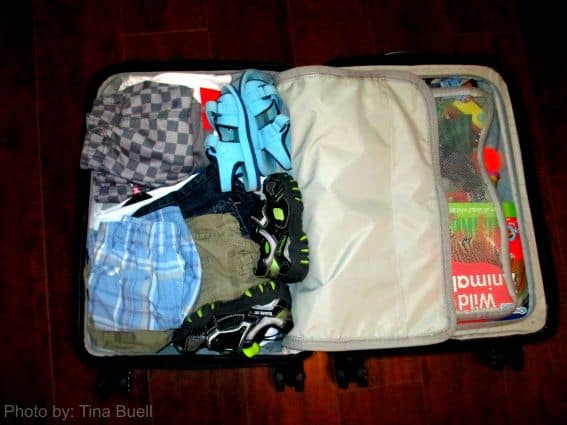 This one is a bit obvious, but it has to be said. Packing light is the key to room under everyone's legs to stretch out, versus stuff crammed between seats & piled so high, that the kids are practically sitting with their legs criss-crossed in front of them! If you're planning on camping, here's a link to an excellent and thorough list of items you'll need. If you're planning on staying in hotel rooms, remember that many hotels have laundry service or a laundry area, so you don't need to pack 7 pairs of everything! Of course, check the weather forecast before you pack and plan on layering your clothes. For the summertime, I use the 5-4-3-2-1 rule.
Five pairs of socks and undergarments
Four short sleeve shirts
Three shorts and pj's
Two, long sleeve shirts and jeans
One sweatshirt, raincoat, pair of sandals, tennis shoes or hiking shoes, and a fancier outfit for going out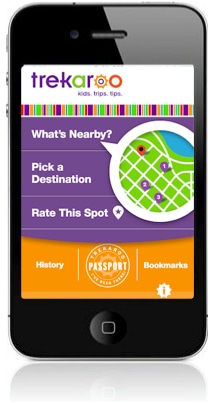 5. Plan your route
Check Trekaroo for some excellent suggestions for places to visit in route to your destination! If you have some extra time, plan for at least one fun stop a day. It makes a big difference in your children's attitudes if they're able to run and play for a few hours and will make a huge difference in your peace of mind as well! Be sure to use Trekaroo's app or mobile site while searching for fun things to do on the go.
If you are visiting several different destinations and you have a portable GPS, program the addresses into it before you begin. As long as the satellites up in the sky are sending your GPS the right information, you should never get lost. Remember that phone GPS systems only work when your phone has service, so you might lose connection while traveling less populated roads. Check coverage maps before heading out with just a cell phone as your map.
6. Drive during nap times & at night
Make it a second honeymoon and enjoy some quiet time in the car with your hubby! We love to drive for a few hours while our kids are asleep and talk together about our plans, how the day went, etc… without distractions.
7. Pack snacks
Some great kid and car-friendly items are: fruit snacks, fresh fruit (apples, grapes, peaches, and plums), pre-cut veggies (carrots, celery, jicama, bell pepper, broccoli), trail mix (we make our own with pretzels, raisins, rice chex's, almonds, walnuts, coconut, and a few M&M's), and whole wheat crackers. For the fruits and veggies, bring a small ice chest to keep them fresh.
We always pack our reusable water bottles and purchase gallon size jugs at rest stops to refill them. On average, we spend about $3 a jug which refills a family of 6's water bottle about 2 times, versus $1.29 per water bottle per person a few times a day! It's a huge savings, plus it is good for the environment.
8. Time can fly with books on tape
My mom used to check out books on tape for us, and I'm happy to continue this tradition for our kids. The library offers an amazing selection as well as downloadable books and cd's for portable devices such as iPods, mp3 players, and iPads. Check your local library for selections!
9. Eat your meals in the car
One of my friends gave me a very helpful suggestion. She told me to eat most of our meals in the car, that way when we stop, we're not wasting running around time, by sitting and eating!
10. Pack a small stroller
If you're not planning on off-roading or hiking on your road trip, I highly recommend purchasing or borrowing umbrella strollers. They are extremely compact, take up barely any room, and come with sun visors. If you have more than one child, they even make links to connect the two together!
Good luck on your road trip, and happy travels!