When most people visit Disney theme parks with their kids, their biggest worry is the 3PM meltdown due to the lack of nap. For those of us who have children with special needs, approaching any family vacation takes a bit more planning and consideration.  My son is on the autism spectrum and I credit many of his advances to both the incredible early intervention therapy he has received and our family's commitment to travel.  Travel allows children to take a step outside of their normally scheduled programming (aka: the happy place for most autistic kids), helping them learn to adapt to a variety of situations outside the norm.  It also allows these children to experience the same things that typical children get to experience, with those same ear to ear smiles of pure joy.  I have never been a fan of keeping a special needs child from experiencing life just because the logistics might be more difficult. Visiting a place like Disneyland may be harder with a special needs kid (I promise it does get easier with each visit) but the rewards can be incredible. Many children have breakthroughs while experiencing the Happiest Place on Earth and many parents realize that their kids are capable of so much more than they imagined. Here are some tips to get you ready for your first Disney trip with your beautiful, huggable, perfect-the-way-God-made-him special needs child.
Read about all the fun Rachel's adorable daughter had at Disneyland.
Before you go
Pack a copy of your child's diagnosis in the bag you will be taking to the Disney parks. There are some less than moral people out there who have tried to work the system by committing disability fraud so you may be asked for this letter at Guest Relations. It will also help Cast Members make sure they are issuing you a guest services pass that will help appropriately accommodate your child's level of disability.
Bring a recent picture of your child with you. Nobody ever plans to have a child wander away but it does happen.
Don't plan too much into each day. It is better to go into the parks expecting to take it slow with lots of breaks and then be pleasantly surprised when your child is up for more fun.
Pack things that will comfort your child. Special blankets or lovies can help calm a child in the event of over stimulation, familiar snacks will calm the picky eater, and games or toys can entertain a child while in line.
Food allergies: Those with food allergies or intolerances are allowed to bring food items into any Disney theme park. If you are questioned at the bag check area (I have never been) then simply inform the Cast Member of your child's issue and they will be happy to let you pass. Most table service restaurants within the parks that accept reservations are able to accommodate food allergy issues. Friends who have visited the parks with a child with severe food allergies have been pleasantly surprised by how many food options their child had.
When you arrive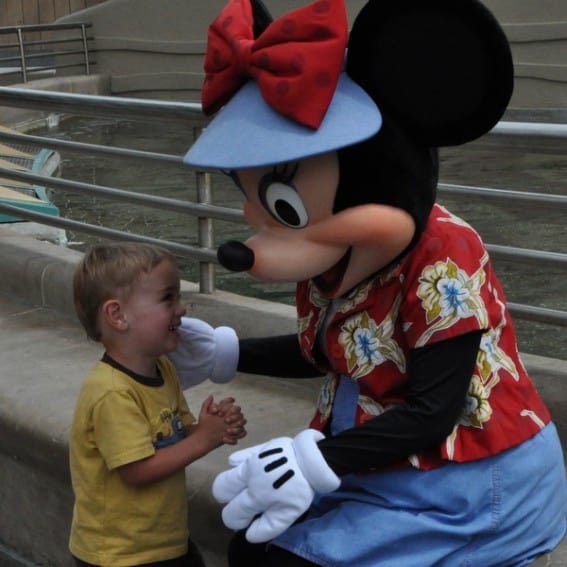 Head to Guest Services first. This is where you will able to rent a wheelchair or stroller, pick up your "guest assistance pass", and have any questions answered. The pass is good for up a party of up to six people and the child with the disability is required to be with you in order to use it (ie: no skipping the line for Space Mountain unless your child is planning on riding with you).  If you have a service animal, it will be allowed in the park and special guidelines will be given. If you would like a sign language interpreter, one can be provided with two week's notice. Be sure to bring your child to Guest Relations with you because you will need to prove he or she actually exists (again, another side effect due to those who have tried to scam the system in the past). Let the Cast Member know of any specific concerns you might have; Disney wants everyone who visits to have a magical experience and may be able to make specific accommodations.
Head to the area of the park your child is most excited about first. If your child loves Buzz Lightyear, take him to the Astroblasters. If your daughter loves music, let her sing along with dolls from around the globe in It's a Small World.  Something familiar and beloved will help ease any apprehension your child might have about this new experience.
If sensory overload should occur, ask a Cast Member for the nearest quiet location. A meal in a quiet corner of park or a ride on the monorail may be great places to slow down and reload.
Have fun! Expect the unexpected and enjoy the moment. If things get difficult, take a deep breath, address the situation, and then get back to experiencing all the Disney magic. Oh- and take lots of pictures. They are only little once!
Have tips for visiting a Disney park with a special needs child? Please share  your wisdom in the comments section.
Resources
Want more detailed information? Pick your park:
Disneyland | Reviews | Fastpass | Rider Swap | Character Map | Best Rides for toddlers| school aged kids | teens & tweens
Disney California Adventure | Reviews | Fastpass | Rider Swap
The Magic Kingdom |  Reviews | Best rides for teens & tweens
Disney's Hollywood Studios | Reviews | Fastpass | Special Events
Disney's Animal Kingdom | Reviews | Fastpass
Planning your day | Busy Day Activities | Apps | Ridemax | Resort Hotels | Children's activity centers | Best Pools Near Disneyland | Hotels offering Kids Camps Near Disney World |   Hotels near Downtown Disney | Special Needs | Best Disney World Restaurants  | Parades | Resort Hotels with Story Rooms | Hotels for Large Families or Groups |  Dinner Shows |  Disney World Special Events |
Share your favorite Disney tip with other Trekaroo readers. Disneyland | Disney California Adventure | Magic Kingdom | EPCOT | Disney's Hollywood Studios
---
Travel with kids to: CA |CO | DC | FL | HI | IL |MA | NC | NY | OR | PA | TN | TX | UT | VA | WA