For our summer vacation, my family and I were in search of a tropical destination without the leaving the country, a place where we could just enjoy the ocean and relax. We decided to take a trip to sunny Florida, but not to the land of Mickey Mouse ears and theme parks (at least not for now!) Instead, our destination was the Florida Keys. Not only did we get to relax and enjoy the sun, but we uncovered so many activities that families could enjoy.  So kick back and read on to find ways to unlock all the family-friendly potential in the Keys.
Hopping on the Old Town Trolley is one of best ways to get acquainted with Key West, and also a great alternative to driving around by car. If you're looking for a more unique way to experience Key West, how about chugging around on the Key West Conch Tour Train? The Conch Train may not cover as much of the island as the trolley, but it is still as much fun!
Dolphin encounters
If swimming with dolphins is on your bucket list, the Keys can make that happen for you. Choose from the Theater of the Sea, Dolphin Research Center, or the Dolphin Connection program at Hawks Cay Resort. If the kids are too young to swim with dolphins, they can still have an unforgettable experience by participating in the dockside program at Dolphin Connection where families can feed, play, and interact with these fascinating creatures without getting wet (well, minus a few splashes).  If you're looking for a less expensive option, Hawks Cay Resort also offers free public viewing of their four resident dolphins a few times a day.
 If you're looking for more dolphin encounters throughout the nation, read this article on dolphin encounters with kids.
Watch fish fly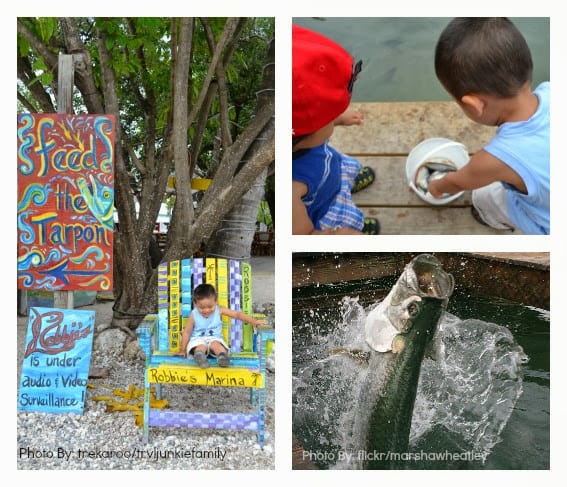 For a unique Florida Keys experience, stop by Robbie's of Islamorada to feed tarpon and then watch them fly out of the water for food!  It all began when the owner started feeding one injured tarpon and has now turned into a spectacle where 50 to 100 of these fish, averaging six feet in length and 150 pounds, linger and anxiously await their next meal from visitors. For only a few bucks per bucket of food, this makes it one of the most budget-friendly experiences throughout the Keys. When you're done feeding the tarpon, check out the cute shops around or grab a bite at the Hungry Tarpon restaurant.
Theater of the Sea – Catch a show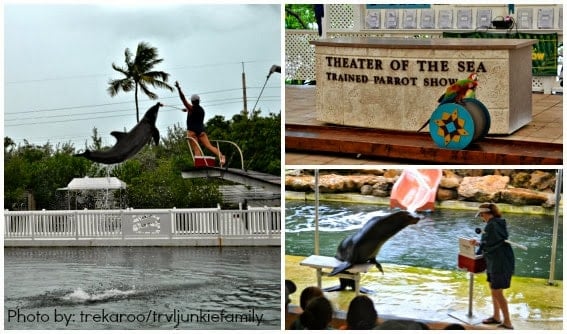 As one of the oldest marine-animal parks in the world, the family-owned Theater of the Sea provides a small, intimate experience for families. During your visit, follow a marine guided tour, watch a trained parrot show, see dolphins performing tricks, meet the silly side of a sea lion, and explore the lagoon on a bottomless boat tour. When you're done, enjoy the lagoon beach or get up close and personal with a dolphin, sea lion, or stingray through one of their special programs.
Visit rescued sea turtles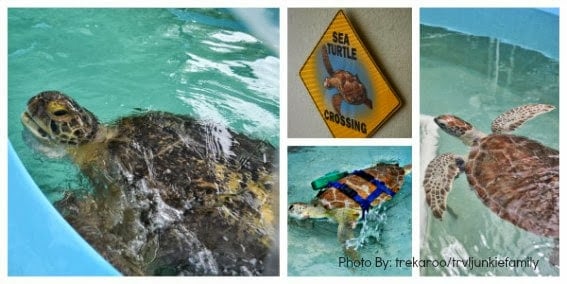 As the only state-certified veterinary hospital in the world for sea turtles, learn how the Turtle Hospital rescues, rehabilitates, and releases sea turtles. Guests can go on a tour at this working turtle hospital and learn more about their noble efforts. While it is great to gain more insight about these wonderful creatures, the best part was getting to see the turtles.
Where all the action is in Key West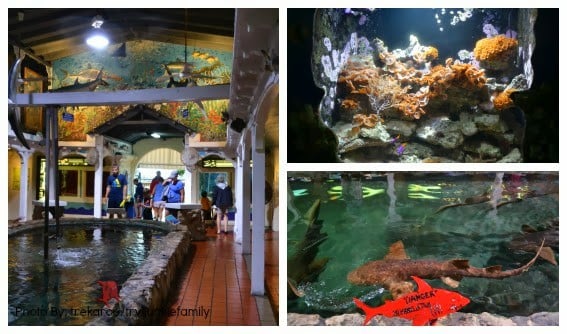 Every evening people congregate at Mallory Square to experience one of the best sunsets they've ever seen. Mallory Square also serves as home to two fun family-friendly Key West attractions – the Key West Aquarium and Key West Shipwreck Treasures Museum. Not only can you feel sea stars, sea cucumbers, hermit crabs, and conchs in their touch tank at the Aquarium, you can actually take them out and hold them out of the tank. Get close to (but don't touch) the nurse sharks, and watch the guides feed these creatures a few times a day. Check out the artifacts from actual shipwrecks at the Key West Shipwreck Museum, and then climb 65 feet up the lookout tower for awesome views of the island.
Where to stay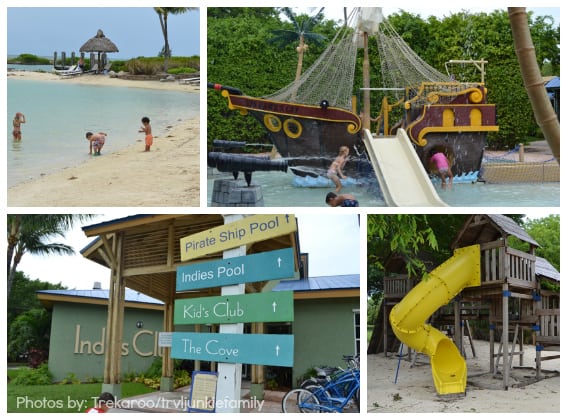 For the essential Florida Keys escape, Hawks Cay Resort touts itself as the family friendliest of them all and I have to agree! Located halfway between Key Largo and Key West, this 60 acre paradise was meant for families. You'll find a saltwater lagoon, a spa, and their very own dolphin program on-site. Good luck trying to pull kids away from the Indies Club with the larger-than-life checkers board, a new sports playing field, a playground, arcade, and a very cool pirate ship pool!
 Disclosure: The author received complimentary lodging and entrance to some of the featured activities.  She was not required to state any particular view and received no compensation.  All opinions are her own.
Comments
comments